Admit it. You heard that old song in your head when you read the headline, right? And if you're a podiatrist or other physician who specializes in treating hands, shoulders, knees++ and toes, you're sure to fall in love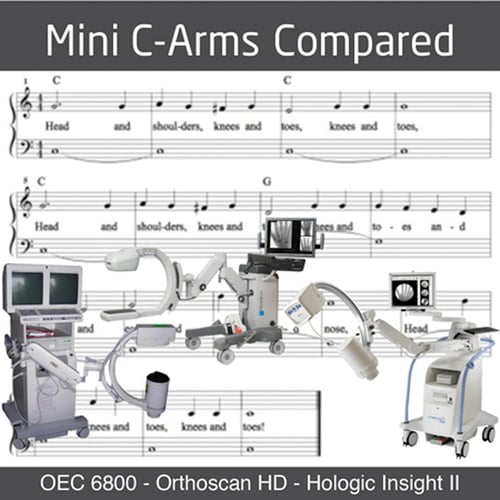 with a Mini C-Arm—and the revenue it can generate in your clinic or facility.
The beauty of a mini C-Arm is that it's, well, mini. They are small, lightweight and offer tremendous maneuverability. You also get optimal positioning and great imaging. It's true that some physicians who focus on pain management, vascular, spine and back often use a larger-sized C-Arm that they may already have in their office—but if you specialize in extremities and small areas, the Mini C-Arm is ideal.
Let's talk about the three most popular Mini C-Arms and see which one is right for you.
First, it's important to consider a used or refurbished mini C-Arm, as they operate beautifully and come with great warranties and service contracts.
That said, our three favorites are the OEC 6800, Hologic Insight II or Orthoscan HD 1000.
OEC's most current Mini C-Arm is the OEC 6800, which was manufactured between 2000-2006. It was the cream of the crop when originally produced and its reliability and seamless user platform has enabled it to stay competitive with the newer Hologic and Orthoscan counterparts. Since it hasn't been manufactured and sold new since 2006, one can only expect that it will be harder to locate replacement parts at some point in the future. However, it still delivers great performance and with a price between $40-$45K, it's a great investment.
The Hologic Insight II was the biggest competition to the OEC 6800 for the entire time that the OEC 6800 was being manufactured. It was the first to have only one single flat screen monitor, which made it even more "mini" than the OEC 6800. They date back to as far as 2003, with pre-owned and refurbished Hologic Insight IIs available for less than $50k.
For a while, it was a two-horse race between GE OEC and Hologic/Fluoroscan. Then came the Orthoscan HD 1000, which capitalized on the stop in production of the OEC 6800. Production began in 2006, though it took a while to gain name recognition. However, it is now considered a legitimate player in the Mini C-Arm market. Much like the Hologic Insight II, the Orthoscan HD 1000 has one flat screen monitor and is much more compact than the OEC 6800. Pre-owned and refurbished Orthoscan HD 1000s are available for less than $50k.
So which one of the three Mini C-Arms is right for you? Talk to an expert at Atlantis Worldwide! Please Contact Us Today!
Some blogs you may have missed:
Meet the author: Alex Silbergleit