As some people continue to gain weight, manufacturers' of MRI equipment have been producing scanners to accommodate larger sized patients. Also patients that are claustrophic or just uncomfortable find that the Open MRI is a better option. Hence the need for more facilities to have the Open MRI Scanner.
If you are planning for a MRI for your practice, clinic or hospital there are many considerations.. Check out "Your Roadmap to the Perfect MRI Installation" first!
Also read "Top 4 Considerations Before Installing an MRI "
Site planning is critical and you will want to know if your new or refurbished MRI will be able to fit the size and weight of your infrastructure.
There are portable MRI's in the range of 50,000 pounds. Models from 3T to 7T can weight 30,000 to 70,000 pounds for the primary magnet but they need shielded rooms weighing in the neighborhood of a 1,000,000 pounds!
We have some of the most popular Open MRI's listed in this infographic!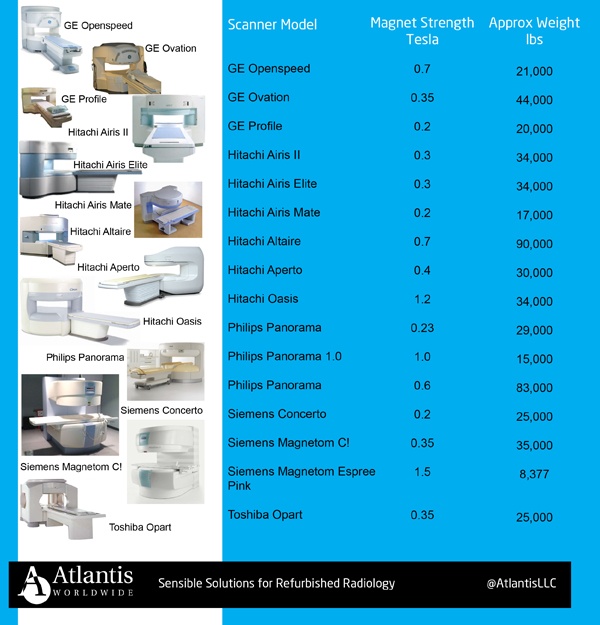 If you want help in determining whether your existing site or planned site is appropriate for an MRI, talk to an industry expert like Atlantis Worldwide. You'll save time, money and headaches! Call Jeff Weiss at 212-366-9100 or email jeffweiss@atlantisworldwide.com
Some blogs you may have missed:
About the author: Vikki Harmonay