The Brits made a splash in Boston again, this time with "tool x-CSI," which has been described as low-dose, high-resolution, non-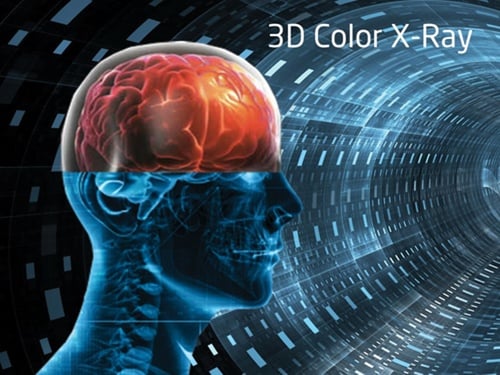 invasive and specific. And the Americans are paying attention.
Experts from London's Institute of cancer Research revealed details about the 3D color x-ray tool, saying it will revolutionize cancer treatment. And the facts are pretty impressive. It cuts radiation exposure by a third and is able to zoom in on tumors for much more precise diagnosis. Dr. Dimitra Darambara led the research that resulted in photon-counting multi-spectral x-ray imaging, or x-CSI. She believes it has the potential empower clinicians to make more reliable and in-depth early cancer diagnosis and could introduce a new way of imaging in oncology.
Current technology can't easily differentiate between different tissues, which makes it more difficult for physicians to see a tumor. Dr. Darambara believes the new technology will eliminate that problem.
She said, "We need to be able to differentiate between tissues to be sure that radiotherapy treatment for example is treating the right area.
"With our new tool, we can see different parts of the tumor, which can help when planning treatment. At the moment, we don't have this kind of information.
"We believe the technology will give you a more accurate, more reliable picture of the cancer, you will get a better diagnosis."
3D and color imaging will provide much finer details, and enable physicians to have a real picture of how the tumor is made up, how advanced the cancer is and help determine which treatment is best for the patient.
With the new tool, you wouldn't have to wait to see if a tumor had reduced in size to know if the treatment is working. You'd be able to see if it was working, and be able to adjust treatment and dosages accordingly. And because radiation is reduced by a third, you could take more images, without exposing the patient to extra radiation exposure.
Human clinical trials are next on the horizon, but it's no surprise that the medical communities on both sides of the Pond are excited and hopeful.
While this new technology may not be available in the immediate future, at Atlantis Worldwide, we're pretty excited about this news. In the meantime, if your practice, hospital, clinic or healthcare facility is in need of medical imaging equipment, we hope you'll talk to one of our experts before you make a decision. Refurbished or used radiology equipment could provide everything you need, including a solid warranty. Contact Us Today!
Some blogs you may have missed: