There's a lot of excitement in the medical imaging world, thanks to new AIR Coil technology. Why? It radically improves the patient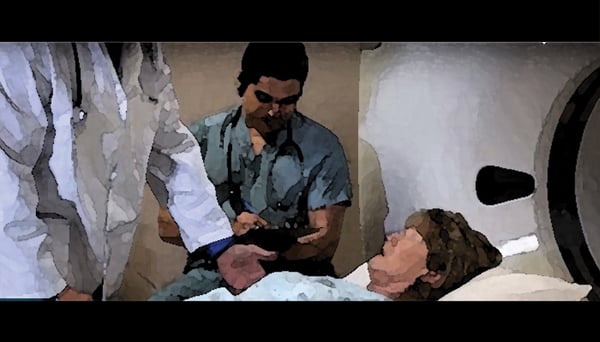 experience, as well as provides better quality images.
AIR coil technology uses a new coil design that is 60% lighter than conventional coils and offers greater flexibility in all axes to help conform to patients' anatomies. It easily fits all patients' sizes, shapes and ages. Because of innovative flexible conductor material, each coil element can be closer to the patient's anatomy. The design is ultra lightweight and flexible, and makes it easy to position on the patient. This delivers improved signal reception, depth of penetration and image quality, as well.
A clinical study was performed at the University of Wisconsin-Madison, where patients provided excellent feedback about the overall comfort of the coil. And at Stanford University, Dr. Shreyas Vasanawala, MD/PhD, Director of MR, Chief of body MRI in the Department of Radiology saw a huge potential for AIR Coils in pediatric imaging, saying, " "I could just lay the coil right on top of a newborn and it didn't impact breathing," while with traditional coils he would have to ease the weight on his pediatric patients by putting pillows under the bulky coils. This definitely would impact the image resolution of the scans, whereas the AIR coils provide a great image.
This new technology also addresses several clinical needs. These include clinical coverage with a high signal-to-noise ratio, as well as optimized geometries for maximum use of parallel imaging.
It is currently available on GE Healthcare's wide bore SIGNA Premier 3.0T MRI system.
GE Healthcare MR engineers held an in-house technology competition. The goal? To redefine the MRI experience from the inside out, designed to fit almost everyone while putting patient comfort first. The result is AIR technology, the industry's first suite of RF coils that provide total freedom in coil positioning and handling during an MRI scan while consuming 50 percent less power compared to conventional coils. To see a video on this new technology click here!
At Atlantis Worldwide, we're excited about this innovative new technology that puts patient comfort first. While it is not widely available yet, it could radically change MRIs in the future. In the meantime, if you are in need of pre-owned medical imaging equipment, we'd love to talk to you about the benefits of buying refurbished or used equipment. You'll still get great warranties and service contracts, and it can make a lot more sense to your bottom line. Contact one of our experts today!
Some blogs you may have missed:
Meet the author: Vikki Harmonay