So, you're buying refurbished medical imaging equipment from a hospital in Atlanta. Or you're selling your used CT Scanner to a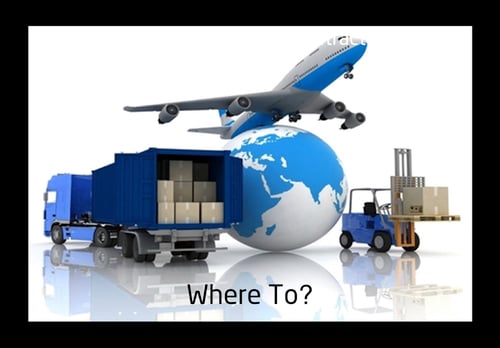 clinic in Beijing. What's the best way to ship it?
Actually, it depends on several factors. Are you shipping domestically or internationally? Should you choose shipping by truck, air or ocean freight? Let's take a closer look at which way might be best for your needs.
Shipping By Land
If you're shipping medical imaging equipment within the United States or between countries that share a land border, trucking is probably right for your project. You can use a van line carrier to move your medical imaging equipment just like you do when you are moving your household belongings to a new home. You'll just need to make sure it's an Air Ride truck because the shock resistance of the suspension eliminates the need for full crating. You will need to have your equipment properly wrapped, braced and padded. Then the van line can carefully move it onto the truck, securing it safely with blankets, pads and straps. Once the system has been transported, the van line will carefully unload the system under the oversight of the engineering team that will install it.
You could also use a Less Than Truckload (LTL) or Full Truck Load (FTL) carrier. These usually don't use Air Ride trucks. If your system is already fully crated with six-sided crating and pallet cushions on the bottom of the crate, using an LTL or FTL can be safer for transport. However, the time and cost involved to fully crate and then uncrate your system can drive the cost up.
Shipping By Air
If you're shipping internationally or nationally, air shipment is usually the fastest way to go, but can also be the most expensive. Your system must have full encasement crating but moisture protection usually isn't necessary, even if shipping overseas. If you're shipping domestically, you can usually use a dedicated van line truck and get the system there just as quickly as air transportation, but for a lot less. If you need to get your system overseas quickly, air travel is the best choice.
Shipping by Sea
If you're looking for the most economical way to ship medical imaging equipment internationally, ocean shipping is the way to go. As a rule, it will take 20-60 days, depending on the sailing schedule and available routes. You can choose to ship your system inside a full container in 20' and 40; varieties. If you can't fill up a container, you can use less-than-a-container-load shipping. Because these containers are usually on deck, your equipment needs to be crated and vapor bagged for full moisture protection. When properly crated, your equipment will be completely safe and dry while being transported.
If you're not certain which transportation method is best for shipping your medical imaging equipment, talk to an expert at Atlantis Worldwide. We've been helping hospitals, clinics, practices and medical facilities transport used and refurbished medical imaging equipment for more than 30 years. We're here to help! Contact Us Today!
Some blogs you may have missed:
Meet the author: Vikki Harmonay