Seems like every day there are new advancements in medical imaging equipment. That means there are also new clinical applications that bring imaging to new users, including patients!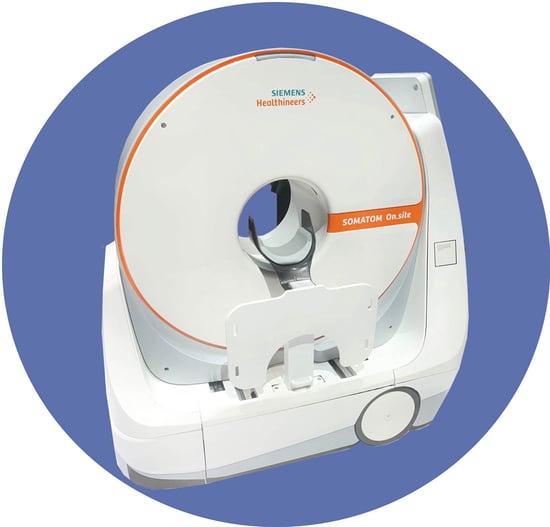 Stationary CT Scanners are traditionally housed in securely constructed imaging suites, with patients being scheduled based on how long it takes staff to provide room turnover and prepare imaging device settings for the next patient. However, during the pandemic several safety workarounds were developed that have inspired designers to consider the value of adding functional mobility to the devices themselves, which can cut down on infection risk, patient vulnerability and staff resources.
Siemens Healthineers North America Mobile CT Director of Business Development Dena Cunningham said, "Whenever we talk about portable CT, it's really about bringing critical care imaging directly to the patient without having to transport the patient down to radiology." It's also about reducing the need to transport patients to the medical imaging equipment, which can take staffers away from other duties and expose patients and staff to the possibility of adverse effect during the move.
Siemens Healthineers has developed the 32-slice SOMATOM On.site CT Scanner, which is the company's first entry into the mobile CT market. It gives ICU physicians the freedom to conduct important imaging studies on patients without having to transport them out of critical care environments.
This is especially helpful for head imaging for patients whose conditions make it impossible to move them, as well as for providing follow-up studies of triaged patients. Cunningham said, "Instead of moving critically ill patients to radiology, we're able to keep them in their beds and provide the imaging. That's really our focus and our introduction into the market with a mobile CT."
To insulate both the patient and technologist, the front and rear gantries of the SOMATOM On.site system are self-shielded against radiation. When patients are placed within it, technologists secure protective drapes around their head, allowing the technologist to stay with them throughout the study. Because the telescopic gantry houses internal scanner components that move away from the patient, scatter radiation is reduced.
There is a head holder and body support for neuro imaging on the SOMATOM, without bed adapters or special connectors for beds that are of different designs. The motorized trolley and integrated camera let operators navigate more easily through the crowded hallways of hospitals.
The SOMATOM won't compromise on image quality because of its mobility either. Its fan beam delivers the imagery of a stationary scanner, as well. The 32-slice Stellar detector and dedicated X-ray tube deliver a high level of detail in images—down to 0.8 mm slice reconstruction.
The earliest adopters of the SOMATOM On.site are most likely to be dedicated neuro ICUs, comprehensive stroke centers and teaching institutions with residency specialties.
Are You In The Market For A CT Scanner?
If so, talk to the experts at Atlantis Worldwide. Oftentimes a refurbished or used CT Scanner can deliver the performance you need and the warranties you want—all for a much lower price point. Atlantis Worldwide has been helping hospitals, physicians, urgent care facilities, veterinary practices and medical imaging facilities with their medical imaging needs for more than 29 years. We'd love to help you, too.
Some blogs you may have missed:
About the author: Vikki Harmonay