Ready for a new C-Arm with Flat Detector for your hospital, clinic, practice or healthcare facility? Both the Philips Veradius Unity FD and Genoray Oscar 15 FD offer exceptional performance and features, so how do you choose?

The experts at Atlantis Worldwide took a close look at both systems. Here's what they determined.
When you need to set pedical screws or a stent graft, or you need to set a pacemaker lead, your need a C-Arm that provides images to support confident decision making. Both of these systems provide exceptional surgical imaging for a new level of efficiency in surgical procedures.
There are five different categories to consider: The X-ray tube, Digital Detector, physical specifications, additional features and warranty.
X-ray Tube: Both of these C-Arms have comparable X-ray tubes. There isn't a noticeable difference between the systems.
Digital Detector: Both systems have the same size detector. However, the Genoray Oscar 15 FD delivers better resolution and pixel pitch, which means you get a better image.
Physical Specifications: The Genoray Oscar 15 FD has slightly better features. However, in real-life application, the difference would be minimal at best.
Additional Features: The Genoray Oscar 15 FD has Remote Connection and lifetime software updates. The Philips Veradius Unity FD has a remote control for added convenience.
Warranty: The Oscar 15 comes with a five year parts warranty and a one year labor warranty. The Philips systems only has a one year parts warranty and one year labor warranty.
Here is the complete breakdown: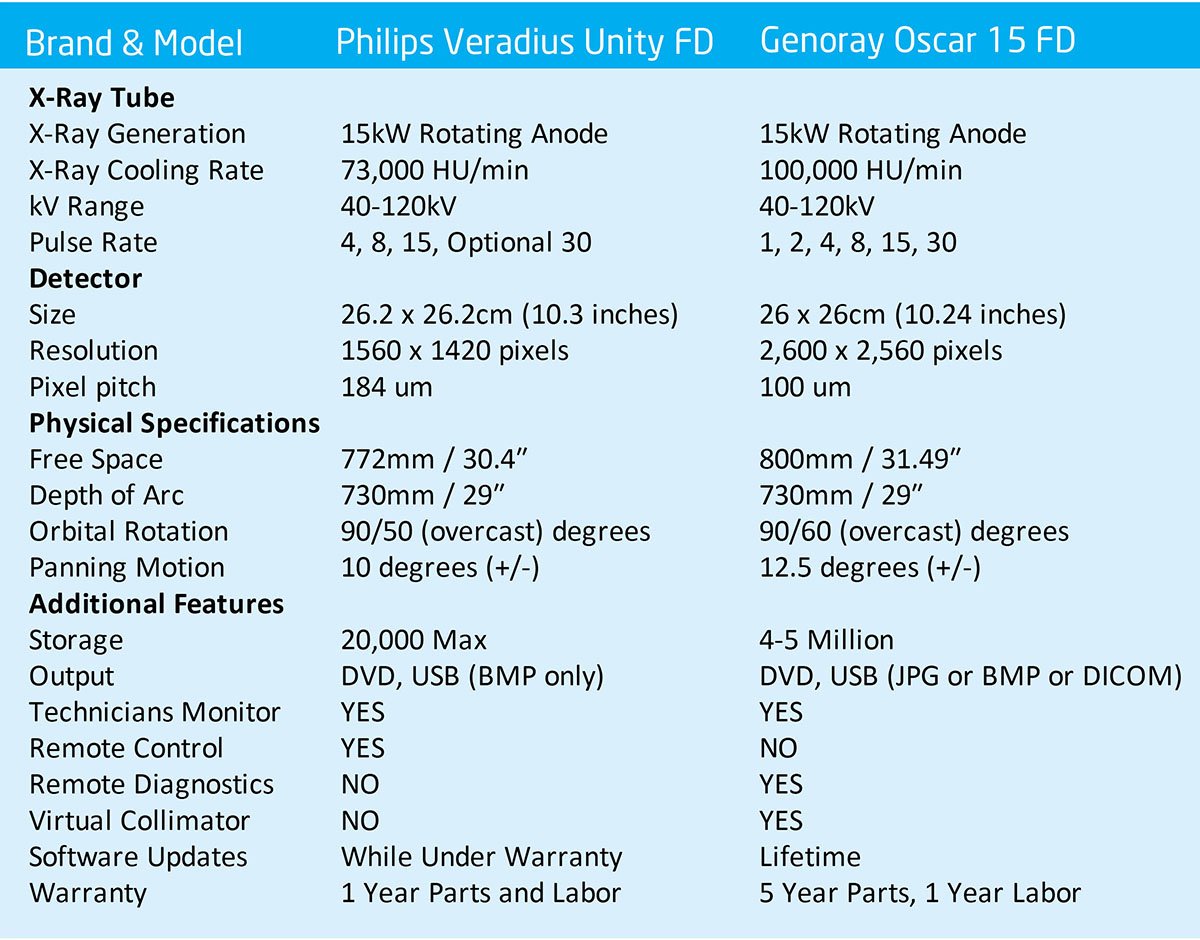 The Conclusion
While both systems are similar to one another, we believe that the Genoray Oscar 15 FD is the superior option, thanks to the better digital detector, the longer warranty and a lower price!
Talk To An Expert
When you're ready to buy a new medical imaging device, or sell the one you have, it's wise to talk to an expert for guidance. Atlantis Worldwide has been helping buyers and sellers for more than 27 years. In many situations, a certified refurbished medical imaging equipment or a used one can deliver exactly what your practice, clinic, hospital or healthcare facility needs, at a much reduced price.
Some blogs you may have missed:
Meet the author: Alex Silbergleit