Are you in the market for a CT Scanner? Aquilion CT Scanners are solid choices, and are available in 4-128+ slices.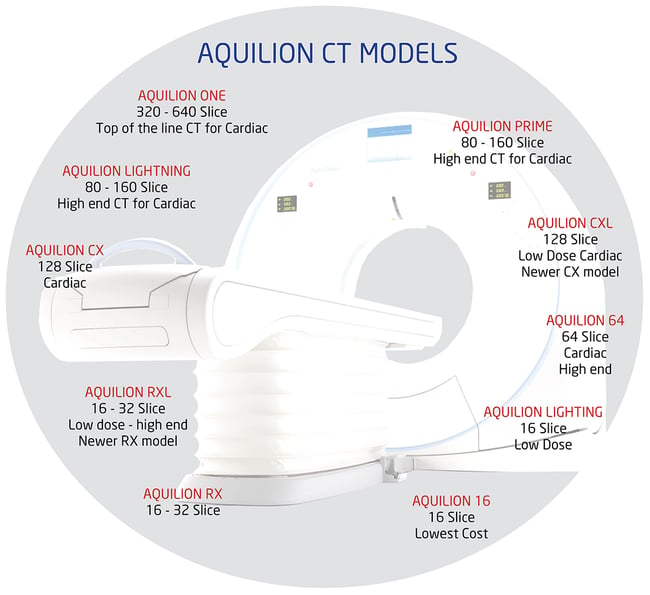 Fortunately, there are a wide variety of Aquilion CT Scanners available on the used and refurbished market, which means you can get solid performance at a lower price. The experts at Atlantis Worldwide put together this summary of the available Aquilion CT Scanners on the secondary market so it's easy to decide which would be best for your needs.
Aquilion With 4-8 Slices
Yes, they can still be found used, but they are not in high demand so inventory is low. They are the most affordable, least powerful and slowest Aquilion CT Scanners and are usually used by low volume imaging centers, international market or veterinarians.
Aquilion 16
The Toshiba Aquilion 16 is a solid workhorse and a great basic CT Scanner compared to systems with 4 or 8 slices, The Aquilion 16's accelerating rotation time decreases scan times and reduces the distortion of moving organs. While it has limited capabilities for basic cardiac studies, it's a solid scanner for general imaging.
Aquilion 32
The Aquilion 32 provides twice as much data than the 16 and allows better coverage, which means you get diagnostic images with better accuracy. You'll appreciate the fact that it comes with workflow-enhancing software. You'll get improved dose management and increase image quality, as well as greater coverage per gantry rotation. However, since the Aquilion 64 was introduced, we're not seeing as many on the market anymore.
Aquilion 64
Looking for a superior whole-body machine that's easy to use? Built on the same platform as the Aquilion 32, the Aquilion 64 is s great choice. It has a highly efficient 64-row Quantum Detector that delivers precise and highly shielded electronics, so you get the quietest, truest signal. It's considered a low budget high-end system that is capable of performing sophisticated exams while requiring much lower reconstruction times. It's a great CT Scanner for basic cardiac, trauma and high-volume critical care environments. However, if you need a CT Scanner for specialized cardiac examinations, you'll need 128+ slices.
Aquilion CT Scanners With 128+ Slices
Aquilion's top-of-the-class CT Scanners range from 128-320 slices, delivering sharp 3D images of any organ within seconds. The Aquilion CXL/CX128, Toshiba Aquilion Prime with 160 slices and the Toshiba Aquilion One with 320 slices are the latest generation of CT Scanners—and the most expensive. They are ideal for cardiac or research institutions.
Aquilion CX and CXL 128
If you want a high quality, versatile CT Scanner, the Aquilion CX is for you. Need a low dose version? Choose the CXL. Both have advanced technologies and versatile applications that focus on cardiology. By combining the latest developed algorithm coneXact, the Toshiba Aquilion CXL can generate 128 unique slides per rotation. Whether using the CX or CXL, every scan will deliver excellent quality and results.
Aquilion Prime
The Aquilion Primes is a more advanced high-end system with 160 slices. Thanks to state-of-the-art technologies, you get high quality images and optimized workflow—which means fast, accurate diagnostic images. It also allows for further dose reductions. Best of all, the 78cm bore provides extra space for trauma exams and will decrease patients' feelings of claustrophobia. It's great for cardiac and routine exams.
Aquilion One
This is the top-of-the-line Aquilion CT Scanner with a cutting edge technology and platform. You'll get detailed and sharp images of a 16cm region in only one rotation, taking only .35 seconds! The 320-row detector delivers simple and easy acquisition of volumetric imaging of entire organs. It can create a full image of the heart in just one rotation! Aquilion is the only system on the secondary market that delivers this kind of performance. It can be used in neurology, pediatrics and general surgery.
Talk To An Expert
If you're in the market for Cannon Aquilion CT Scanners or any other medical imaging equipment, talk to the experts at Atlantis Worldwide. We can help you find the performance you want, the warranties you need, and a price you'll appreciate.
Some blogs you may have missed:
About the author: Vikki Harmonay