There's good news for those looking for a secondary market CT Scanner. We're seeing a lot of previously owned and refurbished Siemens Definition Series CT Scanners becoming available,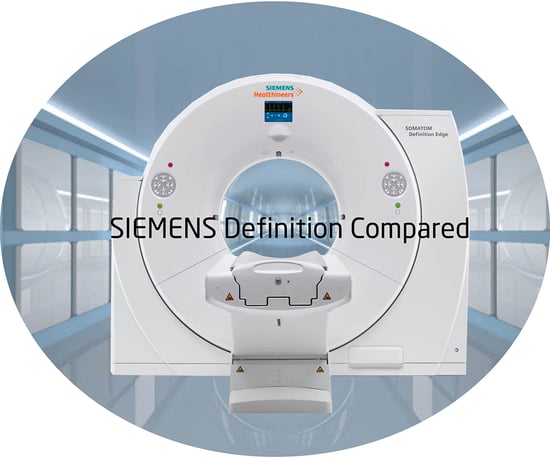 which means you can get the performance you want and the warranties you need—all for a much lower price. So how do you know which one is right for you? The experts at Atlantis Worldwide put together this list of available Definition Series CT Scanners and their benefits so it's easier for you to decide.
The Siemens Definition Series CT Scanners are available in 20, 32, 40, 64 and 124 slice varieties.
Siemens Definition DS: This was the first model in the Definition Series, with two Straton MX tubes. As a dual-source CT Scanner, it captures twice as many anatomical slices as a single source. The slices comprise two data sets which are gathered from the same coverage area. It delivers terrific image quality and impressive scan times. It comes in 64 X 2 and 32 X 4 varieties, but many consider them 128-slice CT. The downside? With two tubes, you ultimately have to replace two tubes instead of one. And with each costing about $120K or $200K from the OEM, the cost is high. Expect to pay dearly for a service contract.
Siemens Definition AS/AS+: The Siemens Definition AS (Adaptive Scanning) is available in 20, 40 or 64-slice varieties. It's the most popular scanner in the Definition family by far because of the lower cost of ownership (thanks to only one Straton MXP-46 tube). You can also choose the Siemens Definition AS+ if you want a 128-slice scanner. The two have identical hardware—the only difference is the slice count. The good news is, you can upgrade from the 20 or 40 slice scanner to a 64 or 128-slice in the future.
Siemens Definition Flash: This is a de facto 256-slice scanner because it has two 128-slice detectors and two tubes. At 0.28 second rotation, it delivers one of the fastest scans on the market and terrific resolution. Once again, service costs are the downside with this model because of the two tubes.
Siemens Definition Edge: This single source, 128-slice scanner from Siemens offers the same speed at the Definition Flash, thanks to Siemens' TwinBeam Dual Energy technology. The Edge can acquire two data sets without increasing the radiation dose. When it comes to upkeep, it costs about the same as the single-source scanners in the AS subgroup.
Talk To An Expert
Not sure which Siemens Definition Scanner is right for you? Talk to the experts at Atlantis Worldwide, with almost 30 years' experience finding the right medical imaging devices for the medical community.
Some blogs you may have missed:
About the author: Vikki Harmonay