Everyone knows that Seimens is a trusted name in medical imaging technology. And so is Philips, for that matter. And if you're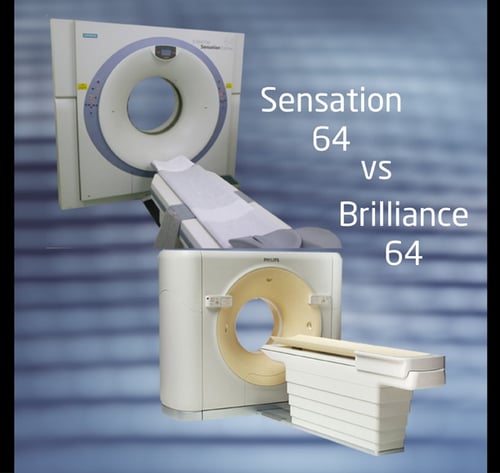 looking for a 64-slice CT Scanner, each company offers two great choices: The Seimens Sensation 64 and Philips Brilliance 64. And you don't necessarily have to buy them new. There are a lot available on the resale market, offering terrific performance at a reduced price, while still offering impressive warranties. If you're in the market for a 64-slice CT Scanner, which of these is best for you? The experts at Atlantis Worldwide put together this handy comparison to help you make a decision.
What Do They Have In Common?
Good question. Both deliver solid, high quality performance. And both fall into about the same price range for both initial purchase price and ongoing service coverage. They both have positioning laser lights and automatic mA control. They share a 512 X 512 reconstruction matrix, although the Sensation is just a wee bit faster at 20 images per second versus 18 for the Brillance. Neither one has 3D reconstruction, but both have automatic exposure control. And they have similar tilt ranges.
How Are The Two 64-Slice CT Scanners Different?
The Siemens Sensation is water-cooled and the Philips Brilliance is air-cooled. Each methodology offers different pluses and minuses. Just remember that with the Sensation you'll need to install an external chiller to cool the system, and maintain it.
The tube on the Brilliance tends to have a longer life span than the Sensation, with 600,000-1,000,000 scan seconds for the Brilliance scanners' MRC 800 tubes and 700,000-850,000 scan second for the Sensation's Straton Z.
The Sensation and Brilliance both require proprietary tube types that are pricey. For example, The Straton Z will cost around $200,000 new, $100,000-$120,000 lightly used and $80,000-$90,000 moderately used. The MRC 800 runs around $195,000 new, $75,000-$85,000 lightly use and $55,000-$65,000 moderately used.
The room size required for a Sensation is 17.5 square meters and the Brilliance requires more space at 19.95 square meters.
The Brilliance has a longer table movement range than the Sensation, with 190 cm versus 160 cm.
The Sensation has no motion correction while the Brilliance does. Likewise, the Sensation has a more powerful generator at 80kW high frequency versus the Brilliance at 60 kW.
The detectors in the Sensation are 32/64 channels x 0.6mm, while the Brilliance has 64 rows X 0.625mm.
Most Brilliance 64 systems will need an XR-29 compliance solution upgrade from Philips for use in the United States. This can involve $75,000 in hardware and software. Siemens XR-29 upgrades only require software changes.
Still Need Help Deciding?
The experts at Atlantis Worldwide are happy to help you decide which of these two systems are right for your facility or practice. As a rule of thumb, if you have a high patient volume and can afford the chiller coverage, the Sensation 64 is your best bet. For more moderate patient volume and smaller budgets, go for the Brillance 64. Contact Us Today!
Some blogs you may have missed:
Meet the author: Vikki Harmonay