Technology is always progressing no matter what industry you are in. Radiology equipment is no different. But if there is a modality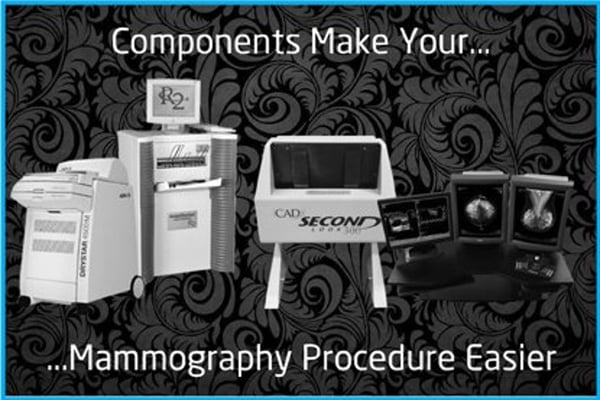 that has experienced the most rapid change in technology, it's Mammography. In just 15 years, the mammography market has evolved from strictly analog, to digital detectors and now we are entering into the age of 3D imaging. However, keeping up with technology can be pretty expensive. That's why many hospitals and clinics across the country choose to buy pre-owned equipment. But whether you're buying the latest and greatest or refurbished, there are additional components you need to consider beyond the actual mammography unit. And each one of them can make digital mammography easier for you and your practice.
CAD
Some of you may remember reading my blog about CAD back in October, during Breast Cancer Awareness month. For those of you who missed it, you can read it here
http://info.atlantisworldwide.com/blog/cad-mammography-the-perfect-combination
. CAD is a computer that is linked to the mammography to help radiologists analyze images to find any issues within the breast tissue. The two top CAD units on the market are
R2 Image checker
(normally used with Hologic systems) and
iCAD Second Look
(normally used with GE systems).
Physician's Workstation
All mammography systems come with a technician's or acquisition workstation, which is positioned right next to the mammography and used to capture the images. However, these workstations are not ideal for a physician to use when analyzing the images with the patient after the procedure. That being the case, many facilities choose to purchase a physician's workstation, which is then situated in a separate room. The images are sent to that workstation following the procedure. GE calls this workstation a Review Workstation (RWS), and Hologic offers a SecurView DX. It should be noted that some facilities will transfer images through DICOM using a PACS network as an alternative to purchasing a Physicians workstation.
Mammography printer
Normally, if a facility opts to get a physician's workstation, there is no need for a printer. But that is not always the case. Printers normally used with mammographies are not manufactured by OEMs. However, one of the most popular mammography printers is the AGFA 4500M.
In order to perform a mammography, these three components are not essential. That being said, having a CAD, Physician's Workstation and/or a Mammography Printer will make the process much easier both for you and your patient.
If you have any questions regarding this blog or any other mammography questions, please reach out to the experts at Atlantis Worldwide. We're happy to assist you!
Please contact Alex Silbergleit at 212-366-9100 or email alex@atlantisworldwide.com
Here are some blogs you may have missed:
About the author: Alex Silbergleit