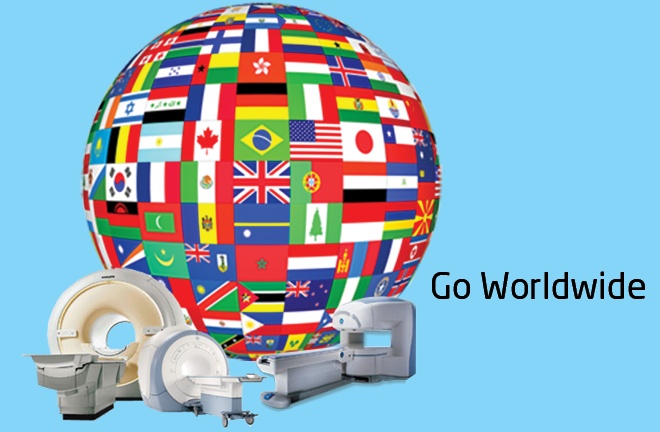 Regardless of the physical geography of your office or facility, there are important reasons not to limit your MRI shopping to your immediate vicinity or even your country. To find the perfect MRI system you won't necessarily have to travel to the other side of the world, but doing your due diligence and shopping globally could help you locate the perfect machine for your budget and your situation.
Here are the reasons going global could be in your best interest:
The Global Marketplace is Huge
It's a pretty straightforward, there are a lot of MRI systems being used in offices, clinics and hospitals around the world. When an office shuts down or decides to upgrade those MRI systems have to go somewhere. That means when you broaden your search there are going to be more MRI machines available. Additionally, many countries with government healthcare systems such as Australia, Canada and France require that some equipment including MRI machines get replaced after a set period. This requirement means that some good systems are being forcibly retired before their ready to stop being effective. This means savings for you.
Supply and Demand Varies
Another reason to look globally for your next used or refurbished MRI systems is because the demand for a particular machine, or the overall demand may change depending on where you're located. In the United States or Europe the demand for a quality refurbished MRI system of a certain specification or brand name may be a lot higher than in Asia or Africa. Factors like model, manufacturer, time in use, size of the magnet, and installed software can all influence the demand for a particular machine. It pays to shop around in other markets where demand fluctuates based on the density of medical offices, hospitals and clinics.
Global Selection is More Diverse
There are many different MRI equipment manufacturers for systems and different brands are favored in different regions. You may think you want a GE MRI but find it to be too expensive when you track it down close to home. That same system could be less in Europe because Siemens MRI, not GE is the top seller overseas. In Asia, Toshiba is more popular. In Italy, Esaote is more common. Finding popular brand names or models for reasonable prices will be easier in places where they are less common. Sometimes it could be like finding a diamond in the rough, other times a needle in the haystack. But looking is worth the time.
Similar MRI Systems Could Cost Less
Competition in MRI manufacturing is alive and well. Each time a new model comes out other manufactures seek to match or exceed the performance of their rivals. You may think you want one MRI system, only to find out you can get a different brand with similar or better specifications by shopping globally. If you want a GE MRI and there is a surplus of Siemens systems on the market overseas, would you consider switching? Who knows, you could end up with a newer system or a more powerful magnet just by broadening your search parameters.
Better Pricing through Currency Exchange
When you're buying something small from overseas the exchange rate doesn't really factor into your purchase. However, when you're buying something substantial like used MRI equipment, it could make a huge difference. If the American dollar is strong against the British pound or European Euro, it could mean big savings, enough to offset the cost of shipping or more.
Networking and Travel
Sometimes it's all about who you know. Making a trip to another country could create new international partnerships or investment opportunities. You may find the perfect MRI machine in another country and while you're there work out a bigger deal to purchase their next retired machine when it becomes available. That's just one scenario but the opportunity for trade, partnerships, and investment can start when you meet others who are in the same business you are. Explore the global possibilities and you never know what will happen.
Atlantis Worldwide is here to help you find the perfect pre-owned MRI to fit your needs and budget. Please contact us today!
Some blogs you may have missed:

About the author: Vikki Harmonay