So it's time to purchase a Digital Rad Room for your practice, hospital or clinic. And you're looking at a used or refurbished solution. Good for you! But before you whip out that checkbook, there are a few important considerations and questions to ask. After all, you want to make sure you're getting exactly what you want and need.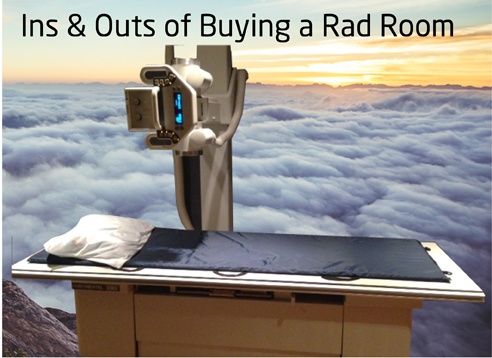 Here's what you need to know about Digital Rad Rooms:
Make sure you understand the types of exams that you want to be able to perform, as well as the quantity. Digital radiographic table systems are great for upright examinations or table-based examinations. This will help you determine the right digital system for you.
Compare to film-based rad rooms, digital rad rooms reduce the amount of storage space needed, provide enhanced image processing and enable off-site diagnostic capabilities.
When considering a generator, remember a high frequency generator needs less space and eliminates the need for high-voltage cables.
The detector is fixed on the digital radiographic table system in table-based units. This prevents certain examinations due to patient positioning constraints. However, some upright digital systems can be tilted to allow table based exams.
Compatibility with DICOM 3.0 is required for all newly purchased digital radiology equipment, including storage devices. This allows future additions to your digital radiography network. Your seller must provide DICOM conformance statements that explain in detail which information objects, services classes and data encodings are supported by the system.
Determine if your current picture archiving and communications system (ACS) can accommodate the integration of your new digital rad room.
You'll probably want a direct digital or flat panel system since a CR system will not be getting as high of a reimbursement and is being fazed out. Your basic system will include a control console and digital image display, a generator X-ray tube, a table and a bucky. The chest stand may also be included.
You'll want to find out if the system also includes a:
printer and/or multi-format printer
mAs indicator
compression bands
head clamps
handgrips
footrest
other accessories
Checklist:
You'll want to know the manufacturing date of the X-ray tube, the original installation date of the X-ray tube, the last date it was operated and the work load or history of the tube.
Whether you're choose a tilting or non-tilting table, you'll want a motorized bucky system. Remember, a non-tilting table provides a wide range of tabletop motions, but will not provide tilting angles.
If you're handling a lot of trauma and emergency cases, you'll want an elevating table. It can be easily adjusted in order to facilitate transferring a patient from a wheelchair or mobile stretcher.
These are just a few of the things to consider when buying a used or refurbished Digital Rad Room. Overwhelmed? Talk to one of the experts at Atlantis Worldwide. We can help you navigate all the information and considerations, and come up with the right decision for the needs of your practice, hospital or healthcare facility. Call Alex Silbergleit at 212-366-9100 or alex@atlantisworldwide.com
Some blogs you may have missed:

About the author: Vikki Harmonay