TIAA Bank has expanded its commercial banking business by acquiring a $1.5 billion portfolio of healthcare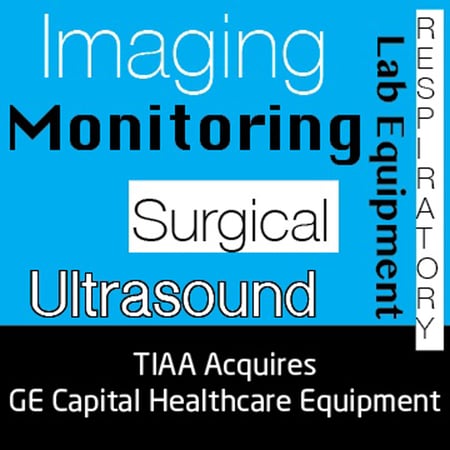 equipment leases and loans from GE Capital's Healthcare Equipment Finance business. It also enhances its ability to provide a full range of financial solutions to institutional clients and serve even more healthcare providers. It includes loans and leases to more than 1,100 hospitals and 3,600 physician practices and diagnostic and imaging centers in America.
GE Capital sold the leases and loans as it seeks to become smaller and more focused.
The assets financed including imaging, monitoring, respiratory, surgical, ultrasound and lab equipment.
"This transaction expands our ability to meet the complete financial needs of hospitals and universities we serve, allowing them to fund their operations, achieve strategic goals and continue to provide high-quality care to millions of Americans," said Lori Dickerson Fouché, senior executive vice president and CEO of Retail & Institutional Financial Services at TIAA.
"This agreement with GE Capital supports our long-term asset growth plan and provides scale and portfolio diversification while significantly expanding our on-going relationship with GE, a top-tier healthcare equipment manufacturer," said Blake Wilson, CEO of TIAA's Retail Financial Services and chairman and CEO of TIAA Bank. "The healthcare industry is dynamic and ever-changing, and the need for new healthcare equipment continues to grow at a rapid pace. This deal will allow TIAA Bank and GE's healthcare finance business to continue to help clients with their financing needs for years to come."
GE Capital Industrial Finance CEO and President Trevor Schauenberg said," "TIAA Bank is a well-known, highly respected institution and we look forward to working with its outstanding team, ensuring a strong foundation for the future and seamless continuity of service for our U.S. customers. With this portfolio sale and financing alliance, we are expanding our funding capability and improving our competitive offerings for our customers."
At Atlantis Worldwide, we're always paying attention to what's going on regarding medical imaging equipment, new technology, marketplace shifts, mergers and acquisitions. If you have any questions, feel free to reach out to our team! Contact Us Today for Your Medical Imaging Equipment Needs!
Some blogs you may have missed:
Meet the author: Vikki Harmonay