So, you're getting ready to upgrade your MRI, PET/CT or CT. Good for you! Of course, you want the process to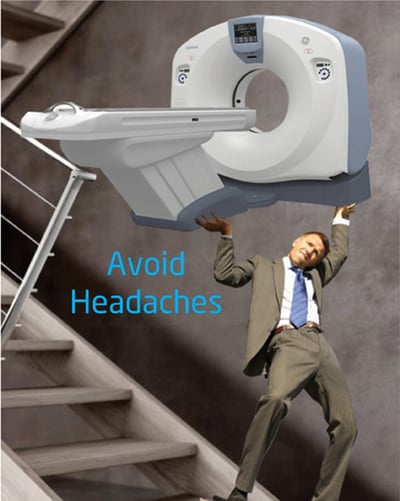 go as smoothly as possible, especially since missteps can end up being very costly. The experts at Atlantis Worldwide have put together this list of steps that can help you minimize disruption in operations, save money and reduce costs.
Select your equipment sooner than later. Once you know the specific medical imaging equipment you'll upgrade to, you'll be able to determine the requirements of your upgrade, structural requirements s staffing and building mechanical electrical plumbing (MEP).
Put together your team. You'll want to talk with system users, key clinical stakeholders, radiation safety officers and even physicists to let them know the details of the upgrade. Talk to key leadership about the potential changes to expect in procedures, volume and staff. Include your facilities department in critical planning. Select an architect, engineer or experienced designer early in the process. By utilizing their expertise, you can lower project costs, experience faster implementation and a smoother start-up.
Choose your interim mobile modality to maintain patient volume during your equipment upgrade and construction. You'll need to research and secure interim mobile imaging several months before your project begins. Consider pad requirements, provide proper exterior power connections prior to delivery and make sure you have enough space to park the interim solution exactly where you want it. Don't forget the space requirements for maneuvering during installation!
Think about making improvements. This is the ideal time to consider making improvements to your imaging suite to improve workflow, patient satisfaction and staff satisfaction. An equipment upgrade gives you the opportunity to identify cost effective, innovative approaches to increase comfort and reduce stress in the imaging suite. Be sure to implement new requirements issued by healthcare and industry accrediting agencies like ACR, Joint Commissions, etc.
Meet with the project manager and design professionals. Present the vendor project manager planning information and suite improvements you want to make. Discuss the scope of the project, monitors, controls and integration. Establish specific deliverables to meet performance standards and project objectives.
Create a realistic timeline. If you don't have proper project scheduling construction costs can escalate quickly.
Establish a credible, reliable and accurate cost estimate. You need to develop a budget that includes both direct and indirect costs, as well as cost control and contingency plans in case of unexpected costs. Refine the budget as the project progresses.
Plan for construction, including shielding, chilled water system and UPS that may need upgrading. Plan for emergency backup MEP systems so equipment downtime is minimized. Perform shielding testing before and after the equipment is delivered. Complete any shielding modifications that might be necessary for the new medical imaging equipment. Establish any imaging suite modifications needed to adhere to building code changes, standards of care or other regulatory agency policies. To minimize the impact on patients and staff, make plans to isolate the project area from the rest of the department.
Talk To An Expert
With proper planning, you can have a smooth transition between your old and new medical imaging equipment. If you have any questions or concerns, talk to an expert like Atlantis Worldwide. We've been helping medical facilities, private practices, urgent care centers and veterinary clinics find ideal used and refurbished medical imaging equipment that provides the performance they want at more affordable pricing. We'd love to help you, too.
Some blogs you may have missed:
Meet the author: Vikki Harmonay