Almost every medical imaging facility has or needs ceiling mounted components. And if you need them, Unistrut is the trusted brand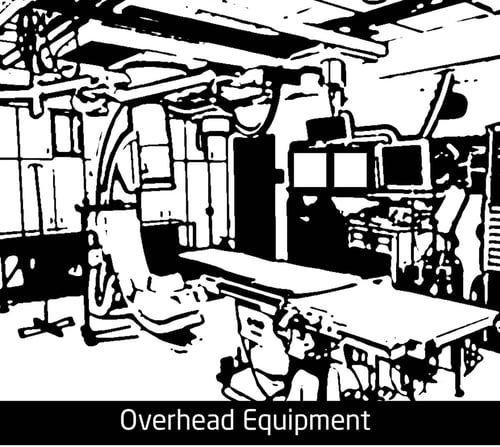 of metal framing system or strut channel. A strut channel is the series of threaded and metal rod and metal channel used to form a ceiling-mounted support structure for anything from R/F Rooms, Cath Labs, lighting to overhead system components.
Unistrut has the most comprehensive line of channels and fittings, along with a complete line of hangers, pipe clamps, concrete inserts and accessories, in a variety of finishes and materials. It's backed by a worldwide network of engineering and distribution centers.
Unistrut connections provide the strength of welding but can easily be taken apart. Because of its wide range of channel options available with continuous slots, no drilling is required. The system is flexible, adaptable and versatile, with parts that can be dismantled and used again and again for infinite configurations. If a change of plans or requirements calls for alteration or rebuilding, the system is totally adjustable.
It's vital that you use the proper structure for suspended equipment, or you run the risk of severe damage or even collapse of the system, which could result in injuries. While Unistruts are adjustable, there are instances when the struts must be changed to meet the OEM requirements if you are changing equipment. Sometimes you can use layers of struts to do the job.
Pay Attention To The Specifications
Each unit will come with site specific drawings, which include the number of pieces required, the exact location, the distance needed between pieces of Unistrut and directions about how it should be leveled. Each system requires a minimum distance from the finished floor to the bottom of the Unistrut. If you don't heed the requirements, you could increase your chances of hitting your head on an overhead monitor suspension or not be able to install a Cath Lab because the "C" would hit the floor. When in doubt, be sure to talk with an engineering specialist.
Installation
Your site's general contractor will be responsible for ordering the correct parts and installing them to specifications. Your architect should incorporate the drawings into the overall project plan. The drawings provided by Unistrut will detail what the OEM requires for proper installation, however it is up to your architect and structural engineer to determine the feasibility of suspending the weight of the equipment for your site's structure.
Talk To An Expert
The medical imaging equipment experts at Atlantis Worldwide can help you determine which equipment you need, best installation methodologies and more. We've been helping hospitals, clinics, heath care facilities and practices with their medical imaging needs for almost four decades, and we'd love to help you. Contact Us Today!
Some blogs you may have missed:
Meet the author: Vikki Harmonay