The last 20 years have seen a lot of change in mobile imaging devices, but none more so than mobile ultrasound devices. This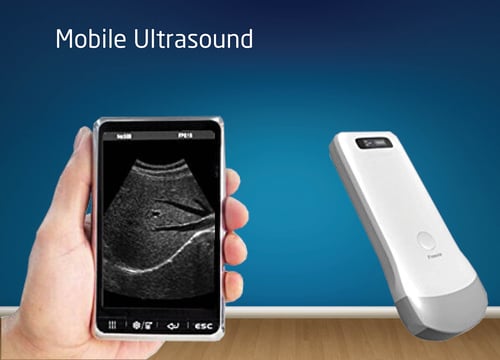 technology continues to meet the growing need for instant medical imaging solutions—with new, more compact solutions hitting the marketplace almost overnight. As their size continues to shrink (sometimes small enough to fit in the pocket of a lab coat!) ultrasound devices are on the move—especially for use in in-home care.
Today's handheld ultrasound machines now weigh less than a pound. They can be connected to any smart device like a smartphone or tablet, enabling fast and easy diagnosis. And as the form factor has grown smaller, so have the prices. Laptop and cart-based systems cost between $15,000 to $200,000, while these new, smaller devices cost less than $10,000!
With its mobility and cost savings, mobile ultrasound is truly a game changer. They are ideal for doctors on-the-go, as well as in care centers and emergency situations. They're popular in long-term care centers for the elderly, on the battlefield, urgent care clinics and even telemedicine.
Mobile Ultrasounds: Ideal In Emergency Situations
In emergency situations, immediate care can be life-saving. A mobile ultrasound can be used to detect injuries like internal bleeding and other severities. By using mobile ultrasound in ambulances, onsite or even during an airlift, a patient can be examined for extreme medical issues quickly and expedite treatment or intervention. The University of Washington is also collaborating with NASA, in hopes of being able to use mobile ultrasound devices on space flights!
New Technology
The Butterfly IQ is new and can be connected to a smartphone. It's designed to help doctors perform exams wherever they are. The Butterfly Enterprise is a mobile friendly ultrasound workflow platform that helps healthcare professionals communicate with each other, create worksheets, perform credentialing and even process billing.
The Lumify Ultrasound from Philips is the first app-based mobile ultrasound solution that helps clinicians make quick, easy and immediate diagnoses no matter where they are. When you combine the Lumify solution with a compatible smart device, you can store, retrieve and share images, videos and notes. You can also use a full ecosystem of ultrasound apps for quick assessments. Again, a game changer.
Talk to An Expert
Atlantis Worldwide is always excited about new medical imaging technology and devices. If you're looking for medical imaging equipment for your hospital, clinic, healthcare facility, veterinary clinic or medical imaging practice, give us a call. Oftentimes a refurbished system can fit your needs and provide a less costly solution.
Some blogs you may have missed:
Meet the author: Vikki Harmonay