It's an exciting time in healthcare, as it seems like every day there's new technology that improves diagnosis, treatment or recovery. We're especially excited to read about a new 3D imaging technique developed by researchers from Cambridge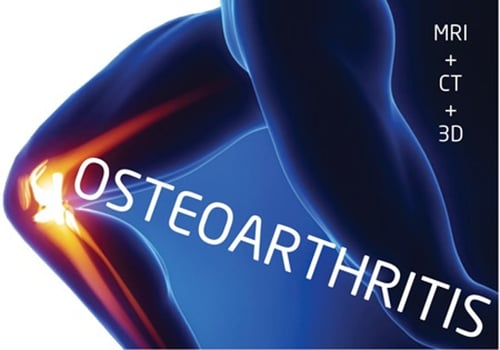 University in the UK. It's destined to provide enormous improvements for evaluating changes in joint disease. And it couldn't come at a better time, as Baby Boomers face the ultimate badge of aging—sore and creaky joints.
According to the Center of Disease Control and Prevention, 50 million Americans have arthritis, and that number is expected to jump to 67 million by 2030. The ability to better assess and manage joint disease would have a huge impact on this aging population.
Currently, most joint disease evaluation is still in 2D, and mostly in radiographs. The 2D techniques aren't able to spot relevant changes because the images may not be reliable or sensitive enough.
This new 3D approach uses two joint space mapping algorithms: one for CT and the other for MRI. They deliver parameters semi-automatically. According to the presentation at ECR (European Congress of Radiology) 2016 in Vienna, the clinician "performs a series of initial preprocessing steps, including the selection of a threshold to isolate the femoral head, then smoothing of automatically generated contours using a homegrown program (Stradwin, Cambridge University). The femoral head is represented as a sphere consisting of about 16,000 vertices in a triangulated mesh; the acetabulum is used to cast a shadow on the surface of the sphere."
Dr. Tom Turmezei from Addenbrook's Hospital and Cambridge University said, "We project the shadow of the acetabulum by sampling in 3D along the radius outside the sphere through the interpolated imaging data and averaging the output."
He continued, ""We can define the two individual cartilage surfaces, and importantly what we have here now are volumes of interest in which we can perform other types of sampling."
It appears this emerging technique could establish a new platform for assessing joint imaging that can detect relevant structural changes in research and clinical settings. What makes it particularly exciting is that the 3D technique doesn't require new medical imaging systems, but utilizes existing CT and MRI systems. It will provide space mapping that can be used to monitor patient reactions to whole joint therapies.
For more details, check out this blog from AuntMinnieEurope.com
For those in the industry it's increasingly important to insure that MRI systems, C-Arms, CT Scanners, and PET/CT/Nuclear systems are of the highest quality and producing accurate, detailed results. That's where Atlantis Worldwide comes in. If you need high-quality, reliable and cost effective solutions for your medical imaging needs, Atlantis Worldwide can help you prepare for the future. Please contact Jeff Weiss at 212-366-9100 or Jeffweiss@atlantisworldwide.com
Some blogs you may have missed:
Meet the author: Vikki Harmonay