Medical technology is changing by the minute. And that means a lot of other things have to change, as well. Take medical imaging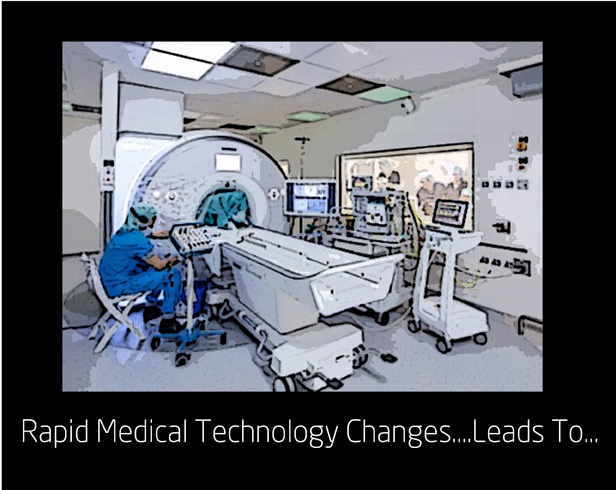 equipment. Now a CT scanner can provide cranial imagery in less than 10 minutes instead of 30. That means this piece of equipment is now ideal for use in ER and trauma units. So, there should be room for this CT equipment in the ER or trauma unit.
Tobias Gilk, an architect and radiology planning consultant with RAD-­Planning of Kansas City, Missouri said recently, "Technologically, nobody would argue the fact that today we are leaps and bounds beyond where we were 20 years ago, but even if we take all of these factors that are state­-of-­the-­art today, they only get optimized in a space that's designed to facilitate them and accommodate their use."
Gilk volunteers for the Facilities Guideline Institute's (FGI) Healthcare Guideline Revision Committee, which develops minimum design requirements for planning, designing and constructing health care facilities. The Committee publishes new design requirements every four years to incorporate best practices in the field. But design criteria for CT Suites that were once universal are outdated. Now there's a new classification system built around how a device is used to diagnose and treat a patient. The space design is not revolving around the device anymore.
"Once you've decided the highest level of care in this acuity or intervention classification system, then you say, what are the design criteria for the technology, and how do those design criteria change if we're talking about a Class I, strictly diagnostic image, versus a Class II, where you are doing heavy sedation and general anesthesia, or image guided biopsies and other types of interventional procedures?" Gilk said. "Now we have a different set of support characteristics for that space. It may be emergency power, different HVAC, how cleanable the surfaces and materials are inside that suite. Class III, with the rise of hybrid OR, are inter-­operative imaging suites, and the demands for patient care and patient support grow even more significant in that regard."
"What's on the horizon, and what will arrive in the 2018 FGI, is a shift from 'a CT is a CT no matter where you put it,' to 'the first thing we're going to think about is what we plan to permit to happen in this space,'" Gilk continued. "That definition will characterize specifically what the design criteria would be for that room."
Medical imaging can no longer be a centralized destination. It needs to be a clinical service deployed throughout a health care system and its facilities. As a result, the new classification system has been developed which will influence facilities planning. Since there's also a rise of in-home care, portability is a factor. Gilk says you now have to pick a horizon point ahead of you and move toward that, instead of factoring in where you've come from. He also sees a future with more collaboration within hospitals and in all departments, instead of having "silos" where cath doctors worked in one area, cardiologists in another, and other specialties in another. There will be a need for a new kind of infrastructure for next-gen imaging equipment, which could require a new approach in the composition and nature of shielding in the walls or rad and fluoro rooms.
John Metellus, MR product manager at Siemens Healthineers North America of Malvern, Pennsylvania, believes the shrinking footprint of imaging equipment like MRI units reflects advancements in its mechanical composition as well as in its total cost of ownership. Reconfiguring magnet cryo­cooling systems to run nitrogen­free and then with less helium helped with weight and servicing of MR equipment while reducing the amount of space needed to store those cryogens. Zero­boil­off magnets can limit helium consumption, collecting its condensate to help extend the time needed between refills, as well as helping limit the fossil fuel usage associated with its production. All these factors combine to make the technology more adaptable to a variety of environments.
"Now you can place it where it's needed, having MRI supplement other departments other than just radiology," he said. "You can bring MRI guidance in to support the angio suite; into oncology for radiation treatment. Interventional MRI has benefited from this smaller footprint, lighter magnets, and the flexibility to site it almost anywhere it's needed."
There are other ways to save space in imaging rooms, like transferring controls to a mobile unit or allowing a scanner platform to be operated by a technologist via a mobile tablet.
In future design, flexibility must be the key. It will apply to power, heating, ventilation, air conditioning, patient access, workflow and more. Imagine a universal grid for ceiling structures, more non-fixed devices and a larger emphasis on patient comfort.
At Atlantis Worldwide, we specialize in helping health care facilities, practices and hospitals find the perfect refurbished medical imaging equipment to maximize profits and patient care. At the same time, we always have an eye on new technology and advancements that will help our clients succeed in the future. Technology is changing at the speed of tomorrow and facilities will have to change with it. For help on your next project Contact Us Today!
Some blogs you may have missed:
Meet the author: Vikki Harmonay