So you want to sell some of your existing medical imaging equipment. Or maybe you're even thinking about using your current equipment as a trade in for something newer. How do you go about it? How do you know who to do business with? How to you determine the selling price or trade-in value of your equipment? What kind of timeline from offer acceptance to equipment removal date is appropriate?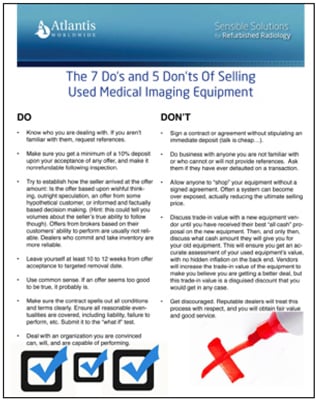 It's true, there are lots of considerations. The experts at Atlantis Worldwide have prepared a special guide to help you navigate through these sometimes murky waters. To download your copy of "The 7 Do's and 5 Don't of Selling Used Medical Imaging Equipment," click here.
The most important thing to remember is this: it pays to work with a company with a solid reputation for success. If you want to find out more, contact Atlantis Worldwide today.
If you do have equipment you are thinking of trading in or selling click the button below!
Some blogs you may have missed:
Meet the author: Vikki Harmonay