Medical imaging costs, both for the equipment and servicing is very expensive for your healthcare facility. As a result,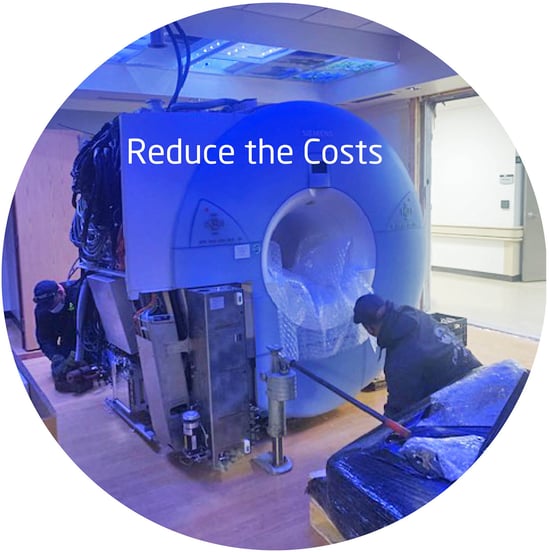 this is also a frequent target for cost-cutting efforts by your healthcare administrators. However, it might be wise to include revenue and imaging department operating costs for additional opportunities to save money. Here are a few ways to reduce the costs of maintaining medical imaging equipment and services costs that make more sense.
Reduce Capital Costs
The good news is, there is a way to reduce capital costs on medical imaging equipment—and enable you to replace an older or less reliable system faster. By purchasing a refurbished or used medical imaging system, you can save significantly. By using a mix of new equipment and certified equipment, you might be able to balance patient throughput, imaging capability and cost-constrained budgets.
Other options for reducing capital costs include leasing or renting medical imaging equipment. If frequent upgrades are desired, leasing is worthy of consideration. Renting is usually a costly option and should be used to cover low volume situations or short term needs where a purchase can't be justified. By changing workflow, you might be able to have tighter scheduling and increased throughput. By extending coverage hours or adding shifts, you could increase the use of equipment, which can create the opportunity to eliminate or put entire systems into backup status.
Reduce Repair And Maintenance Costs
The cost of repairs, maintenance, service contracts and risk-based and time and materials costs can add up. But you should also include administrative costs like contract negotiation, management, AP/AR costs and performance monitoring.
In addition, user protocols can impact service frequency and costs. One example of this is CT warmups, where users can impact costs by using best practices and manufacturer protocols that can extend the life of your equipment.
You should also include service costs like lost revenue, patient scheduling and clinical scheduling. You might consider using a service partner with flexible or low cost after-hours service. OEM service is definitely the most expensive option.
An optimal solution is using an Independent Service Organization (ISO) service from a qualified provider. It can provide robust service, lower costs and a tailored partnership approach. Top ISOs invest in ISO13485 quality processes, technical training programs for engineers and reliable parts supply chains using OEM parts. ISOs are often silent partners for OEM service, providing parts repair services to OEMs or certified repair parts to OEMs for service operations. Usually, the same parts and repairs cost less through an ISO. One word of warning: the backorders on parts and time-to-repair onsite can be excessive. Oftentimes using an ISO engineer to troubleshoot the issue and replace the defective component can cost less and happen more quickly.
Talk To An Expert
The reality is, hospitals and imaging clinics will always need to reduce operating costs—but it makes sense to take a broader, multi-year view when evaluating strategies for savings. The experts at Atlantis Worldwide can help you identify improvements and process standardization easier, which can lower your procurement, maintenance and repair costs significantly. Talk to Atlantis Worldwide today.
Some blogs you may have missed:
Meet the author: Vikki Harmonay