When it comes to sales of refurbished medical equipment, Latin America is getting on the bandwagon. Rising employment levels and economic growth, greater access to healthcare insurance,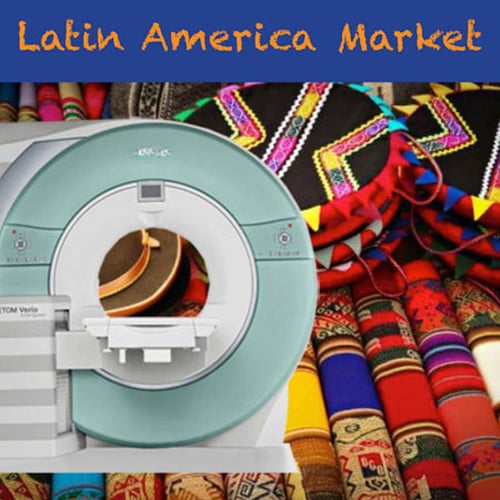 chronic disease incidence and heath care reforms are just a few of the factors behind this. Let's take a quick look at the factors in specific Latin American countries.
Brazil
The medical imaging market revenues are expected to reach almost $920 million by 2017

Government programs, healthcare sector investments, rising employment levels, greater access to health care insurance and aging/obsolete medical equipment are fueling this growth.

Foreign

OEM vendors like GE Healthcare, Philips Healthcare and Siemens Healthcare have established domestic manufacturing facilities in Brazil, in order to avoid logistical obstacles such as higher production costs and heavy import fees.
Mexico
Mexico has the second largest medical equipment market in Latin America and is the third largest importer of medical equipment in the Americas (behind Canada and the United States).

The market is dominated by medical equipment primarily imported from the U.S.

Growth is attributed to political stability, economic growth, high demographics, chronic disease incidence, increasing health expenditure and new technology acquisition.

The weakening value of the Mexican peso against the U.S. dollar has limited market growth in U.S. dollars.
Chile
The medical equipment market is small in Chile, but per capita spending is high at a regional

level.

The market is projected to reach U.S. $1,327.5 million by 2018.

The health reform plan in the public sector should boost demand.
Colombia
Increased political stability and GDP growth has had a positive impact on the medica equipment market in Colombia and it now ranks fourth in Latin America.
As the third most populous country in Latin America (and fourth largest Latin American economy), Colombia has a young and growing population, due to a high birth rateand low mortality rate. This will provide new growth opportunities for medical device companies in the long-term.
The market is heavily reliant on medical equipment imports, especially in the more high tech sectors. A free trade zone around the capital Bogotá has encouraged international companies to enter the market.
Peru
Peru is the second smallest

medical device market in the Americas region and has one of the lowest rates of per capita medical device spending in the region

Public hospital modernization should

aid market growth.

The medical equipment market is the second smallest in the region, and per capita consumption is low by regional standards.

Peru has very little domestic manufacturing, and few multinationals have plants there
Venezuela
The medical equipment market

in Venezuela is hyper-inflated, ranking six the in the Americas region.

It

is projected to register a negative 2013-2018 CAGR due to maxi-devaluations of the bolivar and an under-funded public health care system

Medical equipment imports, which represent nearly 90% of the market, are tightly controlled
As always, if you have any questions about selling your current medical imaging equipment, or purchasing refurbished or used medical imaging equipment, contact the experts at Atlantis Worldwide! Contact Us Today!
Some blogs you may have missed:
Meet the Author: Aston Diaz