These two 1.5T MRI models have a lot in common which can make a decision a bit more complicated. So how do you choose what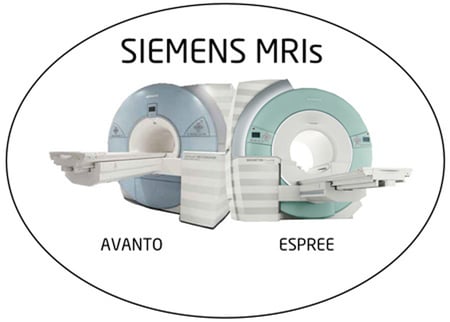 option will fit your needs?
What the Magnetom Espree and Magnetom Avanto MRI have in Common:
We have listed what they do have in common and there are more features that they share then not. The most obvious is the magnet strength - 1.5T. Both Siemens MRIs were manufactured around the same time and are based on the TIM (Total Imaging Matrix ) platform running software VB15-VB19. They both have the same gradient systems using XXL power stages. They also share the same coils, except for a few. Take a look at all the same features both the Espree and Avanto MRIs have below:
Whole Body Clinical Application
Field Strength 1.5T
5-Gauss Fringe Field Radial Axial, m- 2.54
Cryogen Refill Period Approximately 10 years
Cooling System - Water
CPU Memory Size, MB – 4 GB RAM
Image Storage Memory Type – CD-ROM, DVD-R
Image Storage Media Image Image Capacity – 25,000 256 x 256
DICOM 3.0 Classes Supported
Display Monitor & Area L x W, cm – 1280 x 1024 full screen
Simultaneous Scan & Reconstruction
Channels (Min, Max Configuration) – 8, 18, 32
Parallel Imaging Features (Name, ImageKspace) – iPAT, mSENSE & GRAPPA
Non-contrast Angiography
Spectroscopy – CSI & SVS
Motion Compensating Radial Techniques – Std 2-D PACE
Brain Volume Imaging
Table Width (moving part) - 54cm
Table Capacity - 550lbs
Table Vertical Travel, cm (min height-scan height) - 47 Min H
Table Lateral Movement Range - 243cm
Patient Cooling Features – In bore ventilation (3 levels)
Patient Illumination Features - In bore lighting (3 levels)
Patient Operator Call & Intercom
Power Voltage (line voltage, phases) – 380 400 420 440 - 460 480V
AC, BTUhr (for entire system) – 10 kW34, 146
Here are all the differences listed below: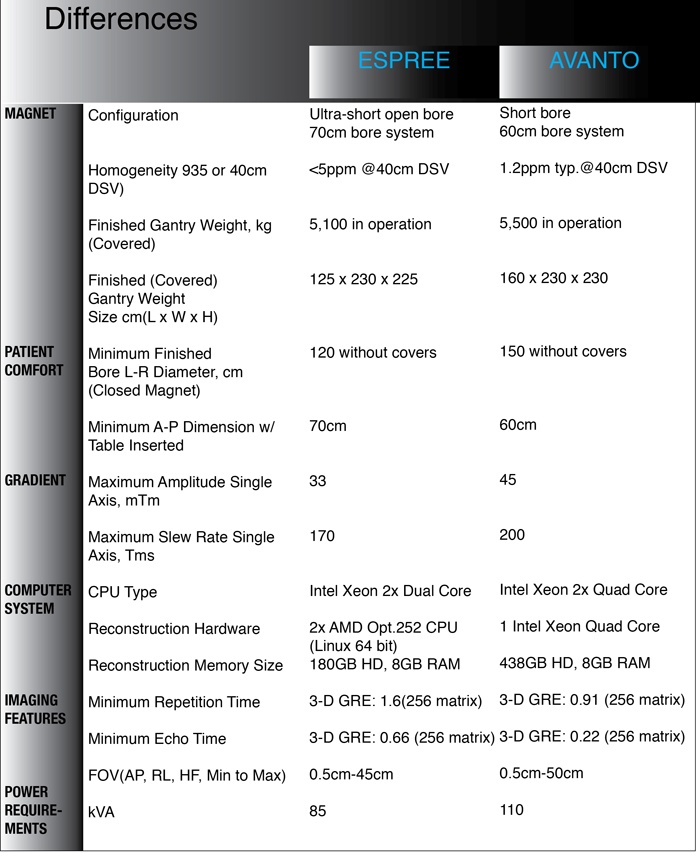 The Espree 1.5T is finding its way on the secondary market. This system has an ultrashort bore that easily gives patients more comfort. It also allows for multiple coils to be connected for multiple simultaneous studies.
The Avanto MRI is also on the secondary market and a bit more affordable.
Both Siemens' MRIs are fantastic systems and would be a great addition or upgrade to many hospitals and imaging centers. The Espree 70cm bore is what makes it an attractive system for patient comfort and popularity. The Espree is a little more difficult to find pre-owned and also more expensive, because of higher demand. The Avanto has many of the same features as you can see above and also is less expensive.
Approximate MRI prices installed will vary based on the whether you purchase a 8, 18, or channel system and software and coil configurations:
Siemens Magnetom Espree MRI: $550,000 to $700,000
Siemens Magnetom Avanto MRI: $450,000 to $600,000
At Atlantis Worldwide, we're always here to help with your refurbished MRI needs. To find out more, contact one of our experts today.
Some blogs you may have missed:
Meet the author: Vikki Harmonay