More and more hospitals and clinics are choosing Mobile MRI Systems versus building an MRI Suite in their facility. Why?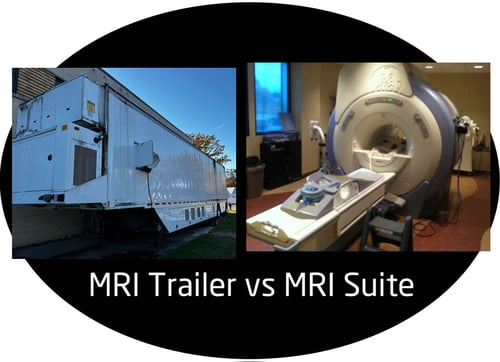 Well, sometimes it's just too expensive to build an MRI Suite. Sometimes you need a temporary solution as you build that MRI Suite. Before you make a definitive decision about whether or not Mobile MRI is a good solution for you, let's take a close look at some of the myths and misconceptions between fixed MRI Suites and Mobile MRI solutions.
Image Quality: Some healthcare professionals are under the impression that the images from a mobile scanner aren't as good as those from an MRI Suite. However, image quality is determined by three factors: the equipment that's being used in the hospital versus the mobile solution, the software, and the skills of the technician who is operating the medical imaging equipment. If you are using a similar type of scanner with a similarly skilled technician, the image quality should be the same. However, some software offers more options, so again, all things being equal, your images should be comparable.
Patient Experience: It goes without saying that the patient experience in an MRI Suite will be different from that with a Mobile MRI. There isn't always space for a changing room in a Mobile MRI, meaning the patient will have to prepare for the scan inside the adjacent building or facility. In-house MRI Suites have much more elaborate audio systems with satellite radio and other technologies, while Mobile MRIs usually have CD players and FM Radio.
Technologist Experience: If a technologist has to use a Mobile MRI instead of the usual MRI Suite, they may need additional training in order to learn how to use the new technology or software. In some circumstances the coil may be different than what the technologist is used to working with and may need training to adapt. It's all about making sure the equipment is in good working order and the technologist has been adequately trained to operate it.
Talk to An Expert
Whether you offer an MRI Suite or Mobile MRI unit, you want to be confident that you are providing the medical imaging your patients need. Atlantis Worldwide has been helping healthcare professionals choose the right medical imaging equipment to fit their performance needs and budget limitations. Oftentimes, a used or refurbished MRI, CT Scanner or other medical imaging device is the perfect solution. Talk to Atlantis Worldwide today.
Some blogs you may have missed:
Meet the author: Vikki Harmonay