It's no secret that you can often get the medical imaging equipment performance you want without buying "new." And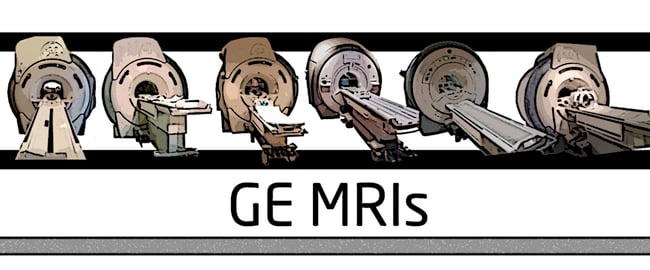 the benefits are many: you still get a great service warranty, you don't have to break the bank and your patients get the right medical imaging. Win, win, win!
There are so many great imaging devices available on the used and refurbished market—especially from GE. Here's a breakdown of the choices that are currently available on the used/refurbished market that can deliver performance, peace of mind and savings. We're going to look at them from new to old.
GE 1.5T Artist
Launched in 2016, patient comfort was key, thanks to a 70cm bore magnet. With up to 128 RF channels, The Artist introduced Direct Digital Interface, a direct analog to digital conversion that uses fiberoptic cables to transfer information quickly from the coils to the electronics cabinets. It provides noise reduction and enhances SNR by up to 27%. With this new technology, operators have the option of either enhanced SNR or increased speed.
GE 1.5T Voyager
The Voyager was introduced with the Artist in 2016. And while it doesn't offer the same RF oompf, it's ideal for practices, clinics and hospitals that require lower power consumption. It has a 70cm bore and DDI technology. If you can't afford an Artist, the Voyager is a great alternative.
GE 1.5T Explorer
This beauty dates back to 2015. Powered by a 60 cm bore, it has the same CXK4 magnet that's been used for 20+ years, with impressive stability and performance. It uses quiet technology, which is appreciated by patients and staff alike. It uses Optix technology which improves SNR. And since it uses the CXK4 magnet, it can be upgraded to an Explorer will little downtime and substantially less cost.
GE 1.5 T Creator
Introduced in 2015 with the GE 1.5T Explorer, The Creator is an 8 channel, lower cost version offering the same CXK4 magnet and OpTix RF technology. It also has 33 mT/m Amplitude and 120 Slew rate that's offered by the Explorer and the LX and EXCITE line.
GE 1.5T Optima MR 360 Advance
Debuting in 2013, this 16-channel workhorse was engineered to address the demand for increased performance, a comfortable experience for the patient and reduced total cost of ownership. "Express coils" improve workflow by reducing the need to reposition coils between scans.
GE 1.5T Optima 450W MRI
This model isn't as easy to find on the secondary market because it was launched in 2010. With a redesigned magnet and wide bore offering (70cm) that accommodates larger patients or those with claustrophobia, it's perfect for cardiology and neurovascular studies. It features a zero boil-off magnet and OpTix, the optical RF system that delivers crisp, clear images. It also has the GEM Suite. It allows coils to be used together or individually to provide head-to-toe coverage without excessive patient movement. Yes, it's expensive, but if it's ideal for your hospital, practice or clinic, it might be worth the price.
GE 1.5T Optima MRI
This system has a 60cm bore, comes with 23.0x software and had a traditional CXK4 magnet of the LX and EXCITE series.
GE 1.5T HDXT MRI
This is a higher end MR that comes with a CXK4 magnet and either 15x or 16x software. It's fairly easy to find on the secondary market and more affordable than the newer GE 1.5T Optima 450. Many of these systems actually started out as GE 1.5 HDX systems and were upgraded. So, if you buy a five-year-old HDXT, the magnet may be a few years older than that.
GE 1.5T HDX MRI
This 16-channel system comes standard with 14x software and uses the CXK4 magnet. However, you can upgrade the electronics and the software to make it an HDXT. Pretty sweet, but the price point won't be much lower than the newer GE 1.5T HDXT.
GE 1.5T HDe MRI
This is GE's most compact system, but it's rare to find it in the U.S. It has a 30% smaller footprint and is an economical choice, but there's a trade-off. You get reduced channel capability and a lower slew rate.
GE 1.5T HD MRI
This was the first MRI to offer true HD imaging for GE. It also included a lot of software upgrades as well as the new HFD gradient cabinet. It delivers expandability at a lower price point. Plus, you can upgrade an HD to an HDXT or even the 23x "Optima Edition software and gradients.
GE 1.5T Excite II MRI
The Excite II can support 8-channel imaging, thanks to its newer Linux-based OS. If you don't need a newer system, this can do the job for much lower upfront costs.
GE 1.5T LX MRI
The GE 1.5T LX uses 9x software and an older Octane computer system. It only supporta up to 4 channels and is equipped with HiSpeed or Echospeed gradients. However, it's still on the secondary market. You'll need to pay attention to which gradient cabinet has been installed, since it can house the newer ACGD or the older SGD.
GE 1.5T Horizon MRI
The Horizon is not just old, it's ancient. No one is in the market for one of these anymore, but if you happen to have one, the secondary market is interested in your parts.
Talk To An Expert
If you've narrowed down your options or need guidance in determining what's right for you, no worries! Talk to an expert at Atlantis Worldwide. We're happy to help you evaluate your needs, market and options so you can make a decision with confidence. Contact Us Today!
Follow Atlantis Worldwide on Twitter: @AtlantisLLC
Other blogs you may have missed:
Meet the author: Vikki Harmonay
This info was updated from previous blog!