The pandemic is far from over, and front line healthcare professionals continue to develop guidelines to keep patients and personnel safe. Aunt Minnie Europe recently interviewed several top European radiographers about their current standards.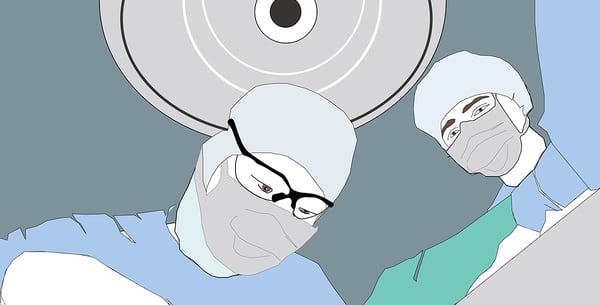 David Guenther is a radiographer at Charite', Universitytätsmedizin Berlin. He recommends:
Wearing a PPE for only one patient and then disposing it. These include a hair cover, goggles or face shield, mouth and nose protection, a virus-proof protective apron and gloves. They do not use shoe protection. A specific CT machine is used for patients with COVID-19 or with suspected COVID-19. The room contains only the necessary equipment and only 3-10 patients are examined daily. After each scan, the CT Scanner is disinfected, as well as all surfaces that may be contaminated. The floor is then cleaned, with the disinfectant requiring a 15-minute drying time. The whole procedure takes at least 30 minutes.
Kevin Barros Azevedo, PhD, lecturer with the medical imaging and radiotherapy department at the University of Algarve, Portugal shared these procedures:
Radiologists wear an apron, shoe protection, cap, FFP2 mask, two pairs of gloves and eye protection. While the ideal would be to change the PPE between each patient, they are keeping the mask, cap and eye protection and just changing the gloves and apron. They are cleaning surfaces between suspected COVID-19 cases and deep clean between suspected and confirmed cases. Patients are grouped by suspected patients, confirmed patients and regular patients. They also follow the hospitals' infection control guidelines and guidelines published by the Spanish Society of Medical Radiology.
John McNulty, PhD and president of the European Federation of Radiographer Societies and associate dean for graduate studies at the University College Dublin School of Medicine shared these guidelines:
All radiographers and other CT staff should be required or directed to put themselves at unnecessary risk on the basis that PPE is not available to them. PPE should be used appropriately and when necessary, and changed between cases. He recommends hospitals utilize the project initiated by Professor Peter Hogg from the University of Salford UK and Ken Holmes, University of Cumbria UK, which provides teaching and support materials provided by a group of more than 40 authors from across the world. Using this single international resource can save a lot of time.
Chest radiography, chest x-ray, and CT have a significant role to play in the management of patients with COVID-19, but a range of approaches are being taken to manage the cleaning of scanners.
Nick Woznitza, PhD, clinical academic reporting radiographer, Homerton University Hospital in London had this to say:
That the role of the CT is not a screening tool or for primary diagnosis. Where possible the departments are trying to stream into "hot" or "cold" scanners. It is not practical as many patients are asymptomatic and the volume of non-urgent work has decreased significantly.
Like all professionals involved in healthcare and medical imaging, Atlantis Worldwide continues to monitor recommended best practices and guidelines for diagnosis and treatment of COVID-19. If your hospital, clinic, healthcare facility, veterinary practice or urgent care is in need of medical imaging equipment, remember that used or certified refurbished equipment can provide the performance and warranties you want and need, while protecting your bottom line.
Follow Atlantis Worldwide on Twitter: @AtlantisLLC
Other blogs you may have missed:
About the author: Vikki Harmonay