For the past 25 years the design and configuration of array coils have evolved. The focus has been all about providing a better MRI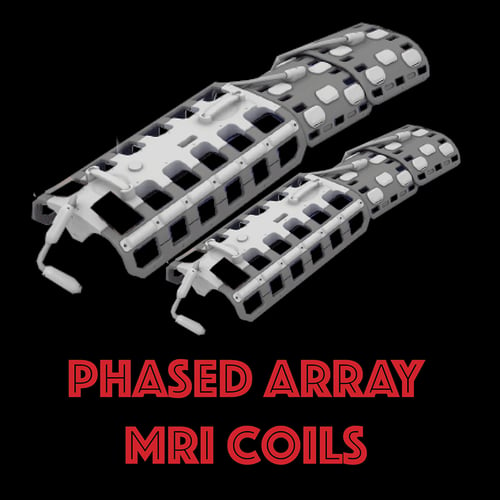 user experience. But what exactly is phased array MRI coil technology? Sometimes referred to as just array, it's a type of MRI coil that allows parallel imaging. It is a receive-only radio frequency coil system that receives the radio frequency signal in MRI. It involves the collection of multiple surface coils into a larger array. These individual signals are then combined to create one image.
These multi-channel coils for MRI of the head, neck, shoulder, torso, wrist and beyond provide a receiver for each channel. They are available for both closed and open MRI systems. You can have a 4, 8, 16, 32, 64 or 128 channel system, with each increasing the number of receiver channels over traditional MRI coils.
Why Use a Phased Array MRI Coil?
That's easy. It's all about speeding up scan time. Very sophisticated MRI scans can take a very long time. However, with multiple channels, the scans can be performed 4-16 times faster. So, a scan that normally would take 60 minutes could take as little as 15—which provides a much better patient experience. With many MRIs, a patient is instructed to stay perfectly still and hold their breath for short periods of time. With quicker scan times, the patient can be more comfortable and less stressed.
The goal? More signal and less noise.
The ratio of signal to noise is used to evaluate coil performance and image quality. By using multi-channel technology, signal is increased, resulting in less noise and better scan quality. It's true, you can also increase signal by using a 3T MRI system, but it's much more economical to just purchase some multi-channel coils to use with your 1.5T scanner. Who doesn't like to save money?
Patient comfort is key
When all the receiver channels are imaging at once, larger portions of the body are covered in each pass. This saves time and improves the patient experience—especially when doing spine work and vascular studies on legs.
If you want to get more out of a magnet without having to buy an entirely new system, upgrade your MRI coils! It will save money and improve patient experience. Furthermore, by using multi-channel coils, you can potentially Used Mri Scanners to replace the use of CT in some situations, since the MRI scans will be fast like CT but without the high-radiation dose.
Talk to an expert
Wondering if multi-channel coils are the right solution for you? Talk to the experts at Atlantis Worldwide. We've been helping medical imaging professionals find more affordable solutions for more than 27 years and we'd love to help you. We also have some coils for sale- click here if you are interested!
Some blogs you may have missed:
About the author: Vikki Harmonay