Are you considering a Bariatric CT Scanner for your hospital, clinic, practice or urgent care? Bariatric CT Scanners are growing in popularity,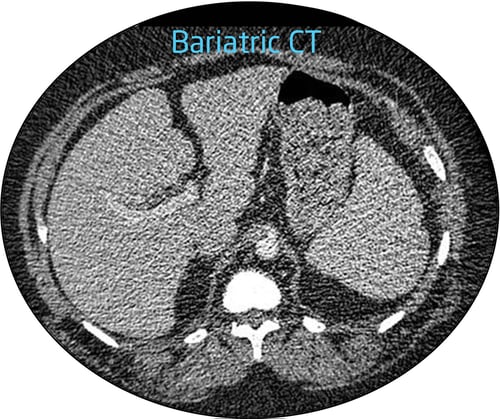 because they're ideal for use with patients who are obese or claustrophobic. They have larger bore sizes and are equipped with bigger generators with higher output. These high-powered generators provide quick scan times, increase productivity and reduce patient time in a scanner.
Bariatric CT Scanners also have an increased field of view and bigger tables. They also have excellent post processing software that can perform neuro, cardiac and various GI studies. With the right software, a Bariatric CT Scanner can also work as a CT stimulator on any size patient.
Did you know that 36% of American adults and 17% of children are considered obese? That's why bariatric imaging has been embraced by radiology departments nationwide.
In the past, many CT scans had to be cancelled when the patient arrived, because obese patients weighed too much for the table or couldn't fit inside the gantry. This was difficult for patient scheduling. In addition, because of the numerous artifacts caused by massive tissue densities, the image quality was poor. Movement causes by nervousness or discomfort often ruins studies, which also led to rescheduling or prolonged scans.
Ideal Features of Bariatric CT Scanners
Bore size 80cm or more—Because of the larger bore size, it can accommodate larger patients and provide more room for biopsy studies
Table weight capacity of 600 pounds or more‑ With a higher weight limit, the table can lower to the floor and move heavier patients through the gantry during the imaging procedure
High-generator output 800mA and 140 kVp or more—High powered generators reduce Quantum mottle and image noise. The images are free of artifacts, which means you can provide accurate diagnosis for the scan
Large FOV over 65cm—You'll no longer miss the outer edges of the anatomy. The large field of view also reduces cropped and truncated images
Remember, the table takes up 19cm of the gantry space
The Benefits of Refurbished Bariatric Scanners
One of the top benefits of purchasing a used or refurbished bariatric scanner is the cost savings. You can get the performance you want at a much lower price—and that includes a service agreement! You'll find a wide variety of used and refurbished Bariatric CT Scanners on the market by top manufacturers like Siemens, GE and Philips. Some are equipped with sophisticated iterative reconstruction methods. Plus, post processing software packages aid in image reconstruction—without the need for increased doses.
Talk To An Expert
For more than 29 years, the experts at Atlantis Worldwide have helped healthcare facilities, clinics, urgent cares, veterinary clinics and practices get the performance, price and options they need with used medical imaging equipment. If you're in the market for a CT Scanner, or wish to get rid of your current medical imaging systems, talk to the experts at Atlantis Worldwide.
Follow Atlantis Worldwide on Twitter: @AtlantisLLC

Other blogs you may have missed:
Meet the author: Vikki Harmonay