So, after months and months of planning, budgeting and coordinating, your new CT Scanner is ready to be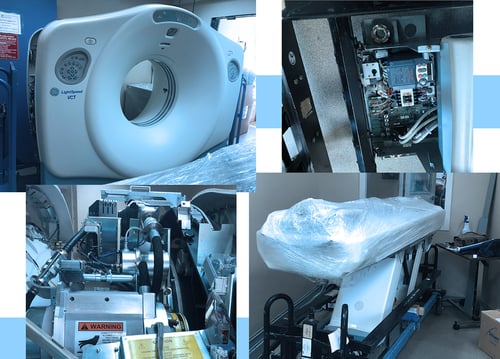 installed. But before you celebrate, there are a lot of steps before your installation is complete. Here are a few things to keep in mind for your CT Scanner installation.
Make a written plan that includes team members, contractors, building management and a step-by-step timeline. Be sure to include a list of all the parties involved and their contact information. This should include your staff, installers, truck drivers, riggers and contractors. You'll want to open lines of communication before the big day and make sure everyone understands their roles, timing and expectations. Provide updates to the team throughout the process.
You'll want to determine the exact route your team will use to install the CT Scanner into the building. You'll need to allot the right amount of parking space and clear the way at your loading dock and entry way. You'll probably need to remove a few doors and store them until they can be replaced after the CT Scanner has reached its destination in your building.
Talk to your contractors about expectations. Ask them to encourage their team to arrive rested and well hydrated. Make arrangements to have meals, water and snacks available throughout the day.
Usually your installation team will consist of a few people who will arrive early on the installation date. In all likelihood they will ship or deliver their tools a few days in advance. You'll need to have a secure space for storage—preferably nearby the site.
Upon arrival, the installation team will inspect the site and make sure the entry path for the CT Scanner is clear. They will install protective floor covering as needed.
Your CT Scanner will arrive by truck and the installation team will transport it to the CT Scanner Room. The team of factory-trained engineers will unpack all of the components, run the cables and position the table and gantry. Then they will mount the table and gantry permanently.
Electricians should be on call and ready to connect the system to your facility's power source when the installation team is ready for them.
Once the CT Scanner is installed, your installation team should remove all packing, tools and supplies and sweep the floors. The mechanical team should wipe down the scanner in order to remove any dust or surface debris from the shipping and installation process.
After the CT Scanner is installed and the room prepared, a calibration engineer will get to work calibrating the system to meet OEM specifications. A first scan will be performed, accompanied by FDA Form 2579, which is a required government document that has to be completed by the installation technician and then kept on file on your premises and available at all times. The engineer will make sure your medical imaging equipment is patient-ready and fully functional.
It's time for your walk-through! The installation engineer will show you the unit, review the components and demonstrate basic functions on a "system demonstration of use." It's a general tutorial and not the actual technical training known as "applications training."
Once the system demonstration of use is completed, it's time for paperwork. Your engineer will fill out the above-mentioned calibrating document. You'll probably be asked to sign a form that states the installation has been completed and meets with your satisfaction. Be sure to have your team member with authority for approval on hand to conduct the final inspection and provide their signature of approval.
Once the installation is complete and approved, your team will need to complete applications training. After that, your new system will be ready to go!
Talk To An Expert
If you have questions about installing a CT Scanner, or are looking for a CT Scanner to fit your facility's needs, talk to an expert like Atlantis Worldwide. Often, a used or refurbished CT Scanner can deliver the performance you want at a price that is kinder to your budget. Plus, you'll enjoy an impressive warranty. With more than 27 years of experience, Atlantis Worldwide is ready to help you. Contact Us Today!
Follow Atlantis Worldwide on Twitter: @AtlantisLLC

Other blogs you may have missed:
Meet the author: Vikki Harmonay