The population of people who can manage their own health to maintain a healthy lifestyle has yet to be reached. The average individual costs per year in additional medical expenses due to chronic diseases such as Diabetes, Smoking, Obesity and High Blood Pressure have steadily gone up.
Chronic diseases account for $3 of every $4 spent on Healthcare.
How can we help the population and our patients change their habits?
One Solution is Behavior Modification. You may be asking yourself, how is that going to help people manage their own health? Behavior modification is the process of implementing personalized change and creating better habits. Most people today want to be healthy and want to implement healthy habits into their lives so it will not be a huge challenge providing they have the right tools and support.
Indaba's HABIT provides "back room" support for doctors, wellness coaches, trainers, healthcare professionals to implement Behavior Modification for their patients. The Health and Behavior Integration Tool (HABIT) is an interactive, personalized online health management system that:
Ties together behavior modification, health risk factors, vital statistics, and evidence-based monitoring
Provides for enhanced population management
Establishes individual's health status baseline and tracks ROI
Supports Insurance Companies, PEOs, Corporations, Medical Networks
Drives awareness of health risks and links to chronic disease and behavioral patterns
Provides for goal setting and contingency planning to improve an individual's health outcomes
Personalizes eLearning based on an individual's HRA and behavior scores
Provides a basis for Annual Wellness Visit and Personalized Prevention Plans
Addresses tenets of the ACA (Affordable Healthcare Act) and reduces healthcare costs.
So how exactly does it work?
Individual or medical professional enters health data (during office visit if AWV- Annual Wellness Visit) Participant answers behavior-related questions (psychometrically validated).
A virtual coach provides targeted health-related videos and activities directly tied to participant's personal results.
Participants learn about their individual behavior, habits and values. Lessons teach how to set achievable health and wellness goals.
Participant updates progress, health info, and goals to see if health score has improved. Continues to learn how to make healthier choices.
Reinforcement through virtual coaching and automated messages. Reminders are sent about goals, medical appointments, and other activities.
Why does Indaba's HABIT program work?
Your patients begin to use HABIT
Your patients become aware of what changes need to be made and learn ways to set achievable health goals for themselves
They start those healthy changes and see a personal responsibility to themselves
They see the benefits and in turn there becomes a healthier risk pool
A Decrease in Chronic Disease
Lower Costs in Healthcare
IHW HABIT™ can be customized and private labeled for Hospitals, Healthcare Facilities and corporations that would like to implement Behavior Modification for their patients or employees. If you would like more information contact Jeff Weiss at 212-366-9100 or Jeffweiss@atlantisworldwide.com
If you would like to Download a Free Whitepaper to learn more please click here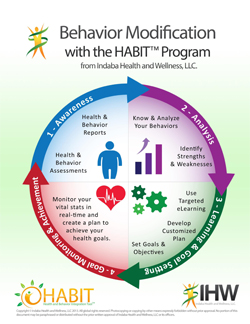 Some blogs you may have missed:
CT Dose Management Soultions for "Smart Dose" Standards
Your Roadmap to the Perfect MRI Installation
The Difference Between Digital Mammography and Tomosynthesis
Twitter is Alive with Tweets about Urgent Care Centers
Extend The Life of Your Medical Imagining Equipment or Replace It?
Meet the author: Vikki Harmonay