What did a nine-expert panel hosted by the American College of Emergency Physicians say about using Point-of-Care Ultrasound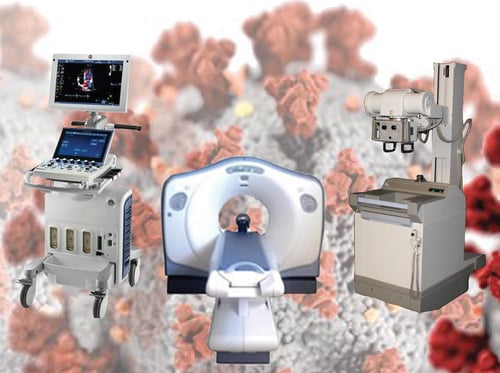 recently? The group of experts including emergency medicine experts from the U.S., Spain and Italy reported their findings in Academic Emergency Medicine in late April. The goal was to highlight the efficacy of POCUS and outline recommendations for its use with COVID-19 patients.
Lead report author and panel moderator Rachel Liu, M.D. said, "Ultrasound as a diagnostic test presents distinct advantages for imaging in COVID-19. It is a mobile technology that can be used in diverse environments, including in triage tents or makeshift hospitals that are now established for COVID-19 evaluation at many centers," she said. "POCUS, in particular, where the clinician both performs and interprets the images immediately at the bedside, can minimize involvement of additional personnel in an infectious situation and provide immediate diagnostic information."
The panel of experts provided five reasons why POCUS should be used more widely with patients suspected of COVID-19 infection than X-ray or CT scans.
It can rule out other pulmonary diseases like pneumothorax or pleural effusion. Being able to remove these conditions from your list of possibilities can be helpful, even if a patient is already sick.
POCUS can serve as a guide with venous access, particularly with critically ill patients who need peripheral or central venous access. Because some patients with respiratory distress can't lie flat, ultrasound can facilitate central venous access. In addition, it can help diagnose venous thromboembolism.
Cardiac ultrasound can help pinpoint any new heart issues or ones that COVID-19 has made worse. The panel suggests that emergency departments integrate focused cardiac ultrasound into symptomatic COVID-19 patient workups and assessments.
Ultrasound can identify more severe illness prior to the development of severe symptoms. Abnormalities characteristic of COVID-19 can help you direct a patient to the appropriate hospital unit early, even before lab results return.
Performing bedside ultrasound can limit the number of healthcare workers that are put at risk. Of course, the sonographer needs to use all the recommended and appropriate personal protective equipment and disinfect the machine.
At Atlantis Worldwide, we provide used and certified refurbished medical imaging equipment that can provide needed performance at a reduced cost. If your clinic, hospital, practice, healthcare facility or urgent care center is looking for CT, MRI, C-Arm, Mammography, Bone Densitometer, X-Ray or any other medical imaging equipment talk to the experts at Atlantis Worldwide. Stay safe out there!
Follow Atlantis Worldwide on Twitter: @AtlantisLLC
Other blogs you may have missed:
About the author: Vikki Harmonay