As a veterinarian, your patients may not walk on two legs, but they still need medical imaging for health issues. The big difference between human patients and those who have fur, scales, feathers or fins is that they don't have insurance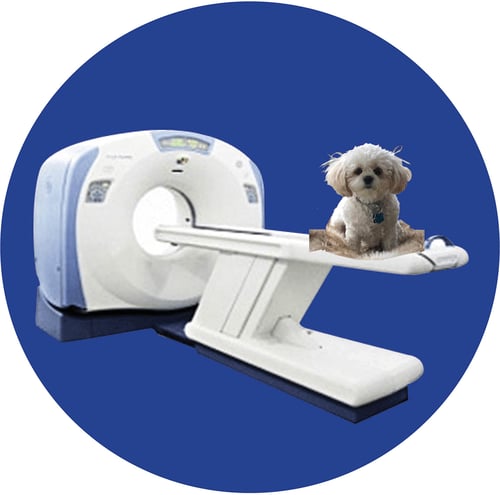 to help defray the cost of MRI or CT scans. Their owners have a limit to what they can spend, so it makes sense that vets need to choose imaging equipment that's not cost prohibitive.
When looking for a CT Scanner for your veterinary practice, you'll want to make sure you buy a system that won't cost a fortune in upkeep. That means you don't want to purchase a CT Scanner with a high-use or old tube, outdated hardware, a large footprint or costly replacement tubes and parts.
Four Used CT Scanners To Consider For Your Veterinary Practice
In most situations, veterinarians can get the performance they want by buying a refurbished or used CT Scanner. GE has three on the secondary market that can be a real workhorse for your veterinary clinic without breaking the bank. Neurologica is a fourth option that's great for veterinarians. Check out all four and see which one could be right for you. (Plus, even though they're used, they come with great warranty coverage!)
GE Brightspeed Select
Whether you need a 4, 8 or 16-slice CT Scanner, the Brightspeed Select is a great option for vets. It was manufactured between 2005 and 2012. It has one of the smaller footprints in the industry so your construction costs and installation costs will be manageable. It comes with a less expensive tube, (Solarix 3.5 MHU), so tube replacement is much more affordable. It also has a lower-power generator which makes it perfect for animals smaller than equine or bovine species. It's air cooled so there's no chiller required.
Neurologica Ceretom
The Neurologica Ceretom is an 8-slice scanner that's small and portable, so it's easy to move around. Since it's portable, there's no construction involved in installing it. However, the bore is only 12 inches, so it can't be used on larger animals, which includes larger dog breeds. The downside? It's challenging to work with the OEM( a division of Samsung) because it's such a niche CT Scanner. There just aren't a lot of third-party parts available.
GE Lightspeed 16
The GE Lightspeed 16 can be a real workhorse (and revenue stream) for veterinarians. It's reliable, easy to repair, is air-cooled, has a small footprint and it's super easy to find parts and engineers for repairs. If you decide to go with this model, be sure to buy one with the MX200 tube instead of the MX240. Also, buy one with an Xtreme console instead of the older Octane. Because they are newer parts, you'll get the reliability you want as well as affordability. It's true, you could consider a 4 or 8-slice, but the faster technology in the 16-slice delivers faster technology for just a little bit more expense.
GE Lightspeed VCT 64
A 64-slice is probably not necessary for veterinarians, but if you wanted this kind of premium technology, this is the one to buy. Of course it's more expansive than 16-slice units, but the GE Lightspeed VCT 64 is cheaper to service than 64-slice CT Scanners from other OEMs. Unless you're going to image 20+ animals a day, a 16-slice CT Scanner should suffice.
Talk To An Expert
When choosing a CT Scanner for your veterinary clinic, be sure to balance your budgetary realities with your clinical needs. The good news is, you can find these four models (and others) on the secondary market easily. Talk to the experts at Atlantis Worldwide about refurbished or used CT Scanners that could fit the needs of your veterinary clinic. Atlantis Worldwide has been helping clinics, hospitals, practices and urgent cares with their medical imaging needs for almost 30 years and we'd love to help you.
Follow Atlantis Worldwide on Twitter: @AtlantisLLC

Other blogs you may have missed:
Meet the author: Vikki Harmonay