2021 marked the 50th anniversary of computed tomography—and new CT options keep entering the playing field.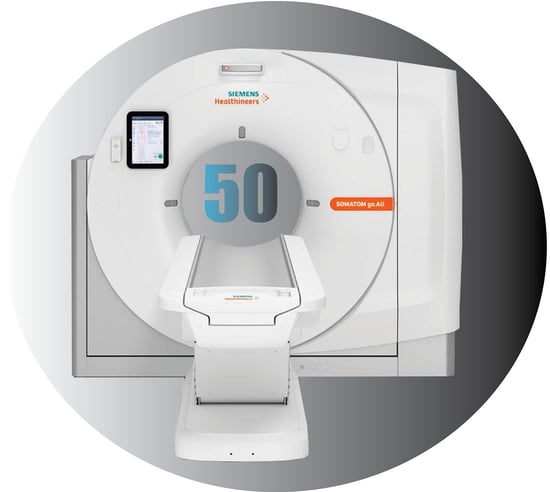 In May of 2021, Siemens introduced its latest CT offering; the Somatom X.ceed, its fastest, single-source CT Scanner. It's designed to simplify procedures where time and precision are critical, like cardiac and emergency imaging and CT-guided interventions. It comes with fan 82-centimeter bore, a 120 kW X-ray tube and user-friendly iPad tablet operation
The scanner features myExam Companion, which provides high spatial and high speed resolution to guide users through diagnostic procedures. This enables the system to use its fast rotation time of 0.25 seconds per rotation and power to their full potential. This is key for emergency, cardiac and spectral imaging.
myNeedle Companion is also included. It's the first universal solution with a harmonized user interface that allows users to plan and guide percutaneous needle procedures across modalities, which includes angiography and CT. MyNeedle Lasert is also included. It is a fully integrated option that projects the needle entry point and insertion angel directly onto the patient's body. This includes advanced double-angulated procedures with multiple needle paths.
Another entry in the CT Scanner market is Spectral CT 7500, a spectral detector-based CT Scanner from Philips. This intelligent system produces high spectral images for every patient on every scan, which improves disease characterization and reduces rescans and follow-ups. It does this at the same dose levels as conventional CT scans. You get a shorter scan time, more confident diagnoses and more effective, personalized treatment plans. It reduces time for diagnosis by 34%, repeat scans by 25% and follow-up scans by 30%. It helps offset the need for unnecessary, suboptimal and repeat imaging, which is projected to save up to $12 billion a year.
The solution enables the technologist to perform spectral chest and head scans in less than one second. Full body spectral scans can be accomplished in less than two seconds. The higher sensitivity allows it to more accurately detect malignant findings and improves readings of incidental findings as well. New patient populations can be served, including pediatric, bariatric and challenging cardiac scans with irregular and high heart rates.
In 2021, Canon Medical Systems entered photo-counting CT (PCCT) partnerships with National Cancer Center Japan and EAST Hospital in Kashiwa for further research. PCCT is the advanced diagnostic imaging technique that's designed to identify material components by measuring X-ray photons at different energy levels. This enables it to enhance image quality and resolution while reducing dose exposer compared to conventional CT. They hope their PCCT system will bring new clinical benefits to patients around the globe. These benefits are based on the identification of multiple material components, lower exposure doses and higher resolution images.
Canon's higher contrast-to-noise ratio enhances image resolution and quality, reduces dose exposure and corrects artifacts. It also creates access to quantitative imaging capabilities with more numerical data on tumors and signs of cancer, for more personalized care.
Lastly, Siemens introduced the Siemens' photon-counting scanner called NAEOTOM Alpha, its first significant advancement in CT in 10 years. Rather than using detectors to measure total energy contained in many X-rays at one time, the photon-counting detector measures each individual X-ray that passes through a patient's body. It allows the scanner to collect more detailed information about the patient. Images can then be formed that reflect the most useful information to help clinicians make better decisions around diagnosis and treatment, as well as in planning radiation therapy.
Talk To An Expert
New technology is always exciting. However, oftentimes medical imaging clinics and practices can serve their patients with existing technology. If you're in the market for medical imaging equipment, it's wise to consider using used or refurbished medical imaging equipment that can deliver the performance you need, at a much lower price point. They still offer robust service warranties, for your peace of mind. Talk to an expert at Atlantis Worldwide now!
Follow Atlantis Worldwide on Twitter: @AtlantisLLC

Other blogs you may have missed:
Meet the author: Vikki Harmonay