Good question. Since the FDA approval of 3D mammography in 2011, more and more women are being asked if they prefer a 3D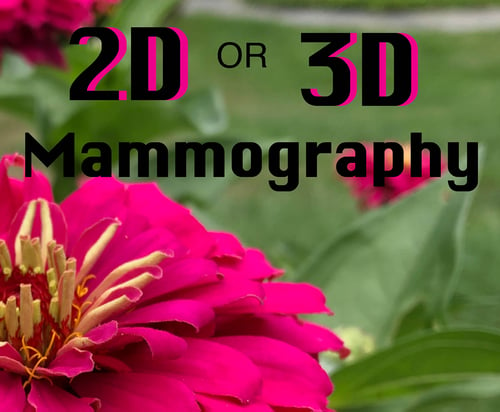 or 2D screening test for breast cancer. In the past three years, there's been a 110% jump in the number of 3D mammograms in the U.S. health care market, so obviously women are jumping on the 3D mammography wagon.
There are now 8,059 3D digital breast tomosynthesis (DBT) units in the U.S., compared to 3,826 DBT units in 2016. And it's estimated that approximately 60% of breast imaging facilities now have at least one DBT unit. After all, digital imaging facilities don't want to appear to only have older technology. But are 3D mammograms the right choice for women?
Let's start with the facts. Some research studies have shown that 3D mammograms detect approximately one additional cancer per 1,000 tests than found with 2D mammograms. Perhaps more importantly, according to radiologists skilled in reading breast images, the rate of false-positives drops substantially when comparing 3D mammograms and 2D mammograms. 3D mammography is also more likely to find smaller tumors before they have spread to lymph nodes, especially among women between the ages of 40-49, according to a recent study in the Journal of American Medical Association Oncology.
2D Mammography was developed in the 1960s and has been shown to reduce mortality from breast cancer by 35-40%. However, it only delivers two images of a breast, and a breast is round. As breast tissue is compressed during a 2D mammogram, the tissue can overlap which can make tumors harder to see.
Dr. Margarita Zuley, president of the Society of breast Imaging and the medical director of breast imaging at Magee-Womens Hospital, said that a 3D mammogram is an advanced digital platform of 2D mammography. "Instead of just taking two pictures of each breast, the X-ray tube moves in a short arc and accumulates a series of images that are reconstructed into thin slices so that when you're ready a mammogram, you have a stack of images to look at. It's kind of like a CT scan in that it is a whole bunch of slices of the breast, and those go down to about 1-millimeter thick." It's important to note that a 3D mammogram doubles the radiation dose of a 2D mammogram.
Most insurance companies, including Medicare and Medicaid, now cover both 2D and 3D mammography. However, under-insured women or uninsured women will pay an average of $50-$100 more for a 3D mammogram.
According to American Cancer Society Senior Vice President For Cancer Screening Robert Smith, "The American Cancer Society's position is that women should never be put in a position where they're told, 'Well, we have a better mammogram, but it's going to cost you more, but it's really worth it." He added," It may be that many women just can't afford more. And we think it's just not a good thing for them to either spend more that they can't afford for the confidence of getting a better mammogram or perhaps feels anxious after a normal mammogram, thinking that it is really not normal. It's not acceptable to have women think that their only real option is the older technology when the newer technology might be safer for them."
Are women being pushed toward testing they really don't want? According to Dr. Etta Pisano, chief science officer for the Center for Research and Innovation at the American College of Radiology and the lead researcher in a new study called the Tomosynthesis Mammographic Imaging Screening Trails, "My view is women make their own decisions about their health care. I don't see it as some plot to force people to get tomosynthesis."
At Atlantis Worldwide, we're here to help our clients determine what refurbished or used medical imaging equipment is right for their medical practice or healthcare facility. Talk to one of our experts if you're considering the purchase of a pre-owned mammography system. We're happy to help! Contact Us Today!
Some blogs you may have missed:
Meet the author: Vikki Harmonay