Earthquakes. Hurricanes. More Hurricanes. Lately we've witnessed an enormous amount of natural disasters, which have affected the wellbeing of hundreds of thousands. Homes, businesses and medical facilities have lost and been without power. They've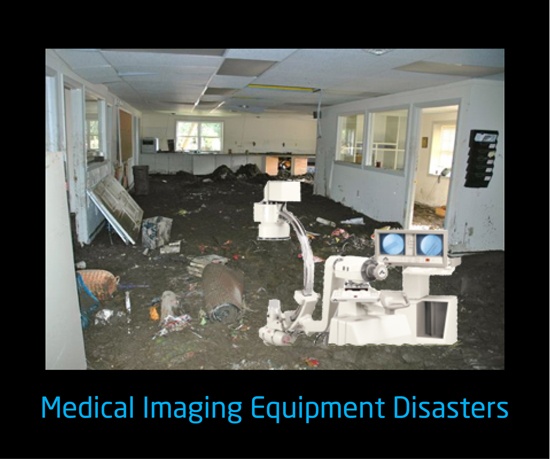 flooded, been damaged by extreme winds and in some cases destroyed. So how do medical facilities recover and continue to provide lifesaving services for their communities?
The #1 goal, of course, is to find a solution that enables you to provide the services your community needs. As a leading provider of refurbished and used medical imaging equipment, Atlantis Worldwide is used to helping healthcare facilities dealing with disasters in several ways.
If your clinic, hospital or practice has experienced damage during a natural disaster, first it's important to find out if your medical imaging equipment is still functional. We have a team that can visit your site and execute tests to determine if your equipment still works, can be repaired or needs to be replaced. Our engineers are also able to provide repair services quickly, plus, you don't have to have a contract, membership or agreement. If it's determined that your equipment can not be repaired, no worries! We have inventory of refurbished and used medical imaging equipment that can be shipped and installed as needed.
Post Katrina
The New Orleans health care system was devastated in the aftermath of Katrina, leaving many without necessary healthcare for many years. There were 2,000 fewer hospital beds one year after the storm, and more than 3,500 doctors left the area following the storm. As of 2015, 54% of residents still don't believe that enough health care services are available. And 21% of residents still have issues with sleeping, which they attribute to the trauma caused by the storm. No doubt we will see similar issues and concerns in Houston, Florida, Rockport, the American Virgin Islands and Puerto Rico.
Lessons From Hurricane Sandy
When Hurricane Sandy hit New York, the East River flooded the medical imaging department at NYU hospital, including the CT scanners, MRIs and x-ray equipment. One week later, the first mobile MRI unit was in place at the hospital and within two weeks, additional imaging services were opened in nearby buildings. While the mobile unit was loaned by a hospital in Michigan, today, firms like Atlantis Worldwide can work to create solutions with refurbished equipment and temporary housing via mobile units. We are used to working with a wide array of challenges—including natural disasters—and can help healthcare facilities overcome huge issues in short order. For more information, contact an expert at Atlantis Worldwide today.
Contact Us Today for Sensible Solutions for Your Refurbished Radiology Equipment Needs!
Follow Atlantis Worldwide on Twitter: @AtlantisLLC

Other blogs you may have missed:

Meet the author: Vikki Harmonay