The OEC 9900 is the latest and greatest OEC currently on the market—and being such, it can be a costly purchase for a healthcare facility. Many clinics, hospitals and practices are considering a more affordable solution: the OEC Brivo C-Arm.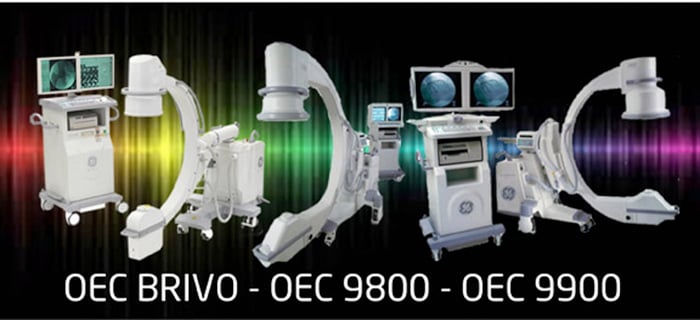 The OEC Brivo Plus C-Arm is a budget device that's used for basic intra-surgical imaging. It delivers an intuitive workflow, wireless connectivity, and Advanced Clear Intelligence imaging. It's ideal for surgery centers that need a simple "point and shoot" C-Arm for everyday applications. The OEC Brivo C-Arm features include:
Proven and familiar OEC interface for confident operation
Automated features, including true point-and-shoot capability to help improve productivity
It's small and maneuverable, thanks to advancements in steering and construction
It includes SMART options – SmartMetal, AutoTrak and AutoWindow to help perfect your technique in more challenging situations
Low dose features help you get the right image at the right dose
It delivers 1k x 1k high resolution imaging technology from a fully digital image processing system
A 9" Image Intensifier provides high spatial resolution
A Carbon fiber grid reduces scatter radiation effect, while improving image detail
The touch screen user interface can reduce procedure time and improve efficiency
It provides advanced connectivity, with wireless DICOM and MPPS
While the OEC Brivo is a high quality C-Arm, you won't get the full library of features that the OEC 9900 delivers, and it can't be used as strenuously as the OEC 9900. It's also slightly smaller in size. However, it can be an ideal solution for surgery centers that don't use it all day, every day. It also requires less space than a large C-Arm.
Physical Specifications of OEC Brivo Plus C-Arm
C-Arm
System length 71.3 in (181 cm)
System height 69 in (175 cm)
System width 30 in (76 cm)
Workstation
Height 65.8 in (167 cm)
Width 35 in (89 cm)
Depth 24.7 in (63 cm)
The Benefits of a Refurbished OEC 9800 C-Arm
Another alternative to the OEC 9900 is a refurbished OEC 9800 C-Arm. It delivers superb image quality and is a real workhorse. You can depend on it every hour, every day and every year. It's 15kW rotating anode X-ray tube, tube cooling system and small socal spot enables dense anatomy penetration with ease. The proven design facilitates longer fluoro ontime, so you can get a great image in almost any situation.
It's designed to deliver more consistent uptime with its high performance rotating anode and patented battery buffer technology
Durable 9800 C-Arms have withstood the punishment of wheeling, propping, positioning and cleaning for more than 10 years.
The most significant difference between the OEC 9900 and OEC 9800 C-Arm is the fact that the OEC 9900 has flat screen monitors and a swivel arm that allows you to position the monitors to face you, no matter where you are in the room. From a functionality and feature standpoint, differences are marginal and don't justify the price difference between the two.
Physical Specifications of OEC 9800 C-Arm
9", 12" or Super C Image Intensifier
Mainframe
System length 75.9" (193cm)
System height 69.8" (177cm)
System width 33" (84cm)
Workstation
Height 64" (163cm)
Width 27" (69cm)
Depth 27" (69cm)
To find out which solution is the best fit for your practice or facility, it's worth the time to talk to an expert, like those at Atlantis Worldwide. Please contact Alex Silbergleit at 212-366-9100 or email alex@atlantisworldwide.com for more information.
Some blogs you may have missed:
Meet the author: Alex Silbergleit