Once a niche hobby for tech savvy makers, 3D printing has become big business. Today, additive manufacturing, the technical term for 3D printing, is being used around the world in almost every sector of business. While its uses vary in size and scope, it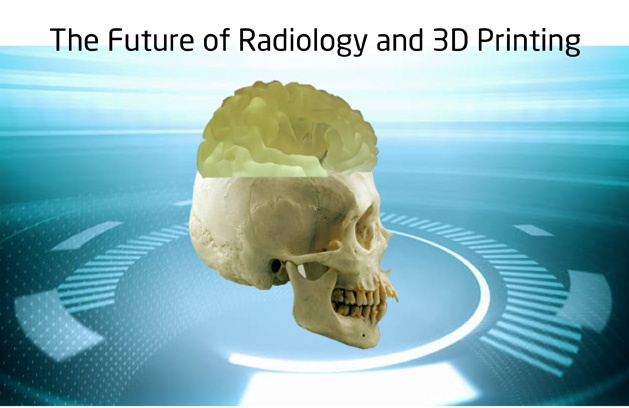 seems as if almost anything can be created. Enterprising professionals from different fields are using 3D printers to create everything from one-of-a-kind prototypes to hard to find parts, food, and even living tissue.
One of the most promising uses in recent years actually has the potential to change the way radiologists and other healthcare professionals work.
Traditionally radiologists have always provided physicians and their other customers with reports featuring detailed images of various anatomies. But what if radiology's outcomes could expand to provide not just interpretations, insights, and recommendations based on images, but something more substantial. Imagine using the results of an MRI to create a customized surgical guide and positioners, or using an x-ray to 3D print a patient-specific prosthetic, or creating precise models from real patients for surgical training. These are just a few of the potential applications for 3D printing stemming from the world of radiology.
Exploring the Possibilities
There are a growing number of incentives for combining 3D printing and radiology. It has become increasingly clear that implementing 3D printing into a radiology workflow can help improve the quality of practice as well as patient outcomes and understanding. From a business standpoint, 3D printing can also help physicians and other customers differentiate their practice and generate more revenue as an added value.
In 2016, the number one use for 3D printing based on radiologic images was in orthopedic departments as they replicate bones for use as models, in training and in medical procedures themselves. However clinical tests and research continue to expand the ways in which 3D printing can be used beyond orthopedics. Trials are ongoing in areas such as cardiovascular (interventional cardiology, congenital heart disease, implantable heart valves, vascular surgery), otorhinolaryngology (ear, nose), abdominal (renal, liver), oncology, and orthopedics (skull, spine, mandible), but also in clinical research and quality control. Everyday more case studies are being generated and capturing a lot of attention.
In fact there are now dozens of hospitals across the United States who have already seen the potential of 3D printing, invested and implemented 3D into their facilities and workflows. Many more facilities are funding research into the field and experimenting with 3D printing in various areas of medicine. There are even centralized 3D printing facilities that have started popping up. Their goal is specifically to service healthcare and radiology related businesses with 3D printed products.
Implementing 3D Printing
For anyone interested in setting up 3D printing in their facility there are several important factors to consider before investing.
Hardware – There are a variety of companies making 3D printing hardware. Each uses different technologies and different materials. Some brands include: Stratasys, 3D Systems, Hewlett Packard, RepRapPro, ExOne, and MakerBot. Choosing which works bet for your practice will depend on your needs and the scale you wish to operate at.
Segmentation Software – Turning an MRI, CT, X-Ray, Ultrasound or other type of scan into a 3D printed model requires software that can interpret the data and translate it into something the printing system can understand. Some companies involved in creating this software include: Amira, 3DDoctor, Slicer, Bespoke Modeling, and Materialise.
Computer Aided Design (CAD) – This is the software system that tells the 3D printer what to print. There are a variety of licensed and open source options. Most 3D printing systems will suggest the use of a specific program for optimal results communicating with the segmentation software.
Training – In order to make the most of your new 3D printing systems you'll to get setup and trained on the system. Whether it's hiring someone in-house or bringing in a consultant, the cost of getting started is a factor in long term planning and budgeting.
The Big Picture
With the technology improving, affordability growing and applications for 3D printing getting recognized as beneficial in more and more case studies, many see the new value 3D printing represents. For radiology 3D printing is a promising new growth opportunity. Not only will it allow radiology departments to expand their services, it will also increase the personalization of the results and quite possibly the outcomes themselves. If you were to judge 3D printing's potential by the interest on the part of radiologists, hospitals, software vendors, and hardware manufacturers, it's time for you to start thinking about ways to capitalize on this up-and-coming opportunity.
At Atlantis Worldwide we are committed to providing the best equipment and service in medical imaging. From MRI and C-Arms, to CT-Scanners, X-Ray and PET/CT/Nuclear Machines we are proud to provide best in class equipment and service to hospitals, clinics and doctors around the world.
With such an important role in today's medical world, as well as in the future of medicine, we urge you to make sure you're getting the best in medical imaging.
Please contact Jeff Weiss at 212-366-9100 or jeffweiss@atlantisworldwide.com for your imaging needs.
Some blogs you may have missed: