The best articles of 2018 - Atlantis has compiled the most popular blogs of 2018. In case you missed them here they are!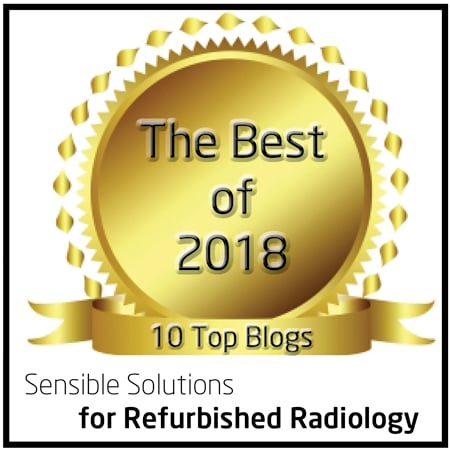 10 Top Favorites:
1) 2018 C-Arm Prices Info-Graphic
Searching online for C-Arm prices? You found them! Search no more; we have prices listed for the most popular C-Arms on our new 2018 Info-graphic
2) 8 Terms Used in Chest X-Rays
When a patient complains of chest pain, shortness of breath and deep coughs, orders for chest x-rays are soon to follow. In fact, chest X-rays are among the most commonly performed medical imaging studies....
3) MRI Comparison:Siemens Espree vs Siemens Avanto MRI
These two 1.5T MRI models have a lot in common which can make a decision a bit more complicated. So how do you choose what option will fit your needs?
As an MRI provider, you have to stay on top of a lot of moving parts—literally and figuratively. At Atlantis Worldwide, we understand and thought we'd provide a global overview of an MRI cold head. As you know...
5) Two CT Scanner Comparisons: Siemens Sensation 64 & Philips Brilliance 64
Everyone knows that Siemens is a trusted name in medical imaging technology. And so is Philips, for that matter. And if you're looking for a 64-slice CT Scanner, each company offers two...
6) Comparing The GE Innova Digital Cath Lab Family: 2100, 3100 & 4100
Interventional Radiology refers to a range of techniques that rely on the use of radiological image guidance to precisely target therapy. These include X-ray fluoroscopy, ultrasound, computed tomography and magnetic resonance imaging. They are minimally invasive and....
Lets face it. CT Scanners aren't cheap. And x-ray tubes are a big part of the expense. So it's wise to get every single bit out of your x-ray tube before you...
8) Which Philips MRI is Right For You? Achieva vs. Intera Achieva
So you're in the market for a new MRI, but you don't really want to buy new. Smart move. Because you can usually get the high quality imaging you need for your clinic, practice or hospital without having to buy something brand new at....
9) Two CT Comparisons: GE Lightspeed VCT 64 vs Philips Brilliance 64
Are you in the market for a 64-slice CT scanner? Do you like the idea of purchasing a refurbished one so you get more bang for your buck? There are two great ones on the market and while they have a lot in....
If you've got a Siemens CT Scanner, you know that parts and maintenance are not inexpensive when need to be replaced. That's why it's so important to factor in..
Stay tuned for 2019 Blogs! If you would like us to cover a topic -please feel free to email us the subject at marketing@atlantisworldwide.com
Meet the author: Vikki Harmonay