At the Royal Hallamshire Hospital in Britain, doctors are using the world's smallest MRI to help premature babies. It's one of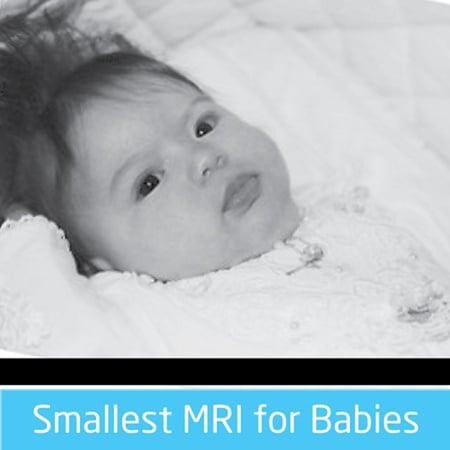 two purpose-built neonatal MRI scanners in the world, and is proving to be better at showing the structures of the brain and abnormalities more clearly that ultrasound, which is normally used to scan the brains of newborns.
According the BBC Medical Correspondent Fergus Walsh, 40 babies have been imaged by the scanner, which was built by GE Healthcare with special funding from the Wellcome Trust.
In the past, ultrasound was the only method to scan newborn brains because the bones in their skulls have not been fused yet. The sound waves travel through the two fontanelles or "soft spots" between the bones. While ultrasound is portable, cheap and convenient, there are some parts of the brain that can't be viewed because of the position of the fontanelles. The GE MRI can show all of the brain and the surrounding anatomy. It makes the images easier to explain to parents. It also shows a wider range of brain abnormalities, especially those which results from a lack of blood supply or oxygen.
In the past, MRI scans were rarely performed on preemies, because the risks of transferring and handling a sick infant can outweigh the benefits. Since maternity wards are usually on upper floors and MRI machines are traditionally found in basements, it can be a difficult journey.
The GE compact baby MRI machine could be a game changer. It's about the same size as a washing machine and resides near the neonatal intensive care unit, making it very accessible.
The baby MRI does not have regulatory approval for clinical use and is purely for research, at this time. A trial study with premature babies would be the next step.
The other prototype is in Boston Children's Hospital in Massachusetts, although it is no longer being used. A 1.5 Tesla neonatal MRI scanner that was adapted from adult orthopedic use is at Cincinnati Children's Hospital in Ohio.
At Atlantis Worldwide, we're excited about new and innovative medical imaging equipment that can provide better diagnoses and outcomes. However, our specialty is providing healthcare clinics, facilities and practitioners with used or refurbished medical imaging equipment that achieve clinic goals without exorbitant costs. If you're in the market for an MRI, CT, C-Arm or other refurbished medical imaging systems, we hope you'll contact the experts at Atlantis Worldwide. For more information Contact Us Today!
Some blogs you may have missed:
Meet the author: Vikki Harmonay\