Here's a shocker. The average price that healthcare providers paid for CT scanners in a three-month period in 2016 compared to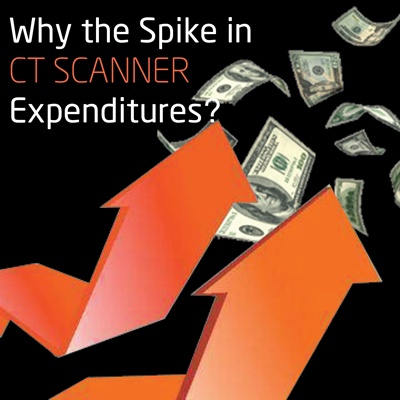 the same time period in 2015 went up 34%.
You read that right. Thirty four percent.
According to the latest Modern Healthcare/ECRI Institute Technology Price Index (TPI), the average CT system cost $1.1 million, with a premium scanner selling for $1.7 million between February and April.
So why the spike?
New scanners with higher "slices" are in demand, because they have better software and offer more detail in their images. They also deliver wider detectors and capture larger body images in each rotation than less-sophisticated scanners. Add in the fact that premium scanners offer quicker scans, and it's no wonder healthcare facilities are adding them to their shopping list. In fact, CT scanners ranked sixth on the list of most-expensive-capital-items purchased. That's good news for General Electric Co., Philips, Siemens, Toshiba and Hitachi—the major players in the CT market.
Another valid reason for upgrading your CT Scanner is the fact that Medicare will not reimburse you as much, if your CT Scanner is not XR-29 compliant.
So does that mean you have to dash out and buy the latest, greatest technology? Maybe. But often times, there are used or refurbished CT Scanners that make more financial sense, especially since you can get solid warranties and be XR-29 compliant. It all depends on a wide variety of factors, including the demand and competition in your market, the nature of your practice, the age and size of your facility and more.
Sure, it can be confusing. But before you start shopping, take the time to talk to an expert who can help you determine the best course of action—and CT Scanner—for your needs. A smaller check may end up paying even bigger dividends for you. Give the experts at Atlantis Worldwide a call today.
Contact Jeff Weiss at 212-366-9100 or jeffweiss@atlantisworldwide.com
Some blogs you may have missed:
Meet the author: Vikki Harmonay