Should interventional cardiologists and Cath Lab staff be concerned about ionizing radiation from the angiographic X-ray systems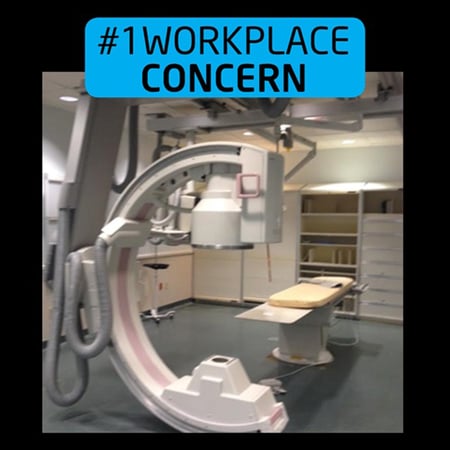 that are essential to their procedures? Actually, yes, since internationalists who began working in interventional cardiology in the late 1980s have been showing high rates of cataracts, left-side brain cancers and chronic orthopedic back issues. As a result, younger interventional cardiologists are actively looking for ways to reduce their radiation exposure and eliminate the need for lead aprons.
There are numerous factors that determine the level of radiation exposure for operators and staff—the case volume of the lab itself and the types of procedures being performed are important considerations. Other factors include the use of more imaging, the longer duration of peripheral procedures and the closer proximity of the operator to X-ray source and scatter. Another issue is that new procedures are more complex and longer lasting, sometimes taking two or three hours. One thing is for sure: peripheral procedures are associated with much higher doses than coronary procedure because of the use of larger X-ray imaging fields that contributes to more scatter radiation.
"It is hard to say what a typical exposure is because there are so many variables," explained Sunil Rao, M.D., professor of medicine at Duke University Medical Center, and section chief, cardiology, at the Durham VA Medical Center.
Rao says that staff education is the first step toward reducing dose, which includes the proper use of the imaging system, how dose is calculated, the basic physics of X-ray radiation, how to mitigate the risks and understanding what happens to the body after long-term exposure. Rao also mentioned that many people don't wear their radiation badges in the lab, which is a big risk. Some forget and others don't want to be told by hospital safety monitors that they have reached the maximum monthly threshold for exposure.
Interventional Cardiologists and Average Radiation Exposure
There have been several studies to establish a baseline for the average amount of staff radiation exposure. In 1992, a study estimated radiation exposure received by all in-room staff in three cardiac cath labs that performed in excess of 15,000 procedures during a five-year period. The study found head and neck areas generally receive about 20-30 millisieverts (mSv) per year. However this was before the introduction of lower-dose imaging systems.
In 2013, a study found that interventional cardiologists experience an exposure per-person, per-year that is 10 times higher than diagnostic radiologist. The data show cumulative doses after 30 years of working life are in the range of 50 to 200 mSv, with a projected professional lifetime attributable excess cancer risk in the order of magnitude of 1 in 100.
Needless to say, the concern about radiation exposure is high among members of the Society of Cardiovascular Angiography and Interventions—and all those involved in this industry. It's wise to arm ourselves with information, execute all possible safety measures and work together to establish best-practices.
If your practice, hospital or healthcare facility is in need of medical imaging equipment, talk to the experts at Atlantis Worldwide about the many benefits of purchasing refurbished or pre-owned equipment that can deliver the technology, warranties and guarantees you want, as well as the service, support and advice you need. Contact Us Today!
Some blogs you may have missed:
Meet the author: Vikki Harmonay