It's great to see Siemens introducing a new line of CT scanners. The new Definition Series has replaced the Sensation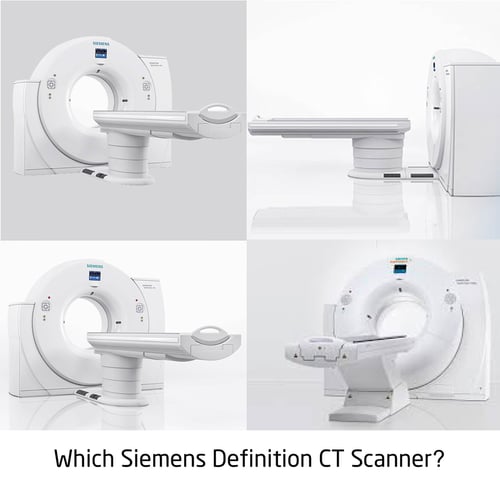 Series. While it's great news for technology, there are a lot of Definition Series CT Scanners from which to choose. The experts at Atlantis Worldwide have put together this guide to help you understand each of the models and determine which one might be best for you.
Definition Dual Source CT Scanner
This was the first Definition Series CT Scanner introduced. It gets its Dual name from the fact that it has two Straton MX tubes. It delivers superb image quality and fast scan times and is available in 64 x 2 or 32 x 2 varieties. As a dual-source CT scanner it captures twice as many anatomical slices as a single source, with those slices comprising two data sets taken from the same coverage area. The dual-source technology benefits scan times versus image resolution. The downside? Because there are two tubes to replace at more than $200,000 per tube, the service contract for a Definition DS is sizable.
Definition AS/AS+ CT Scanner
This AS CT Scanner comes in 20, 40 and 64-slice varieties, or as a Definition AS+, it's a 128-slice, with identical hardware across the series. The beauty of this is if you currently can only afford a 20 or 40-slice scanner now, it's easy to upgrade to a 64 or 128-slice in the future with a simple field upgrade. These are the most popular in the Definition Series because they deliver a low cost of ownership and only have one tube (Straton MXP).
Definition Flash CT Scanner
Similar to the Definition DS with two tubes, the Definition Flash has two 128-slice detectors or a defacto 256-slice scanner. You'll get some of the fastest scans on the market at 0.28 second rotation—plus you get terrific resolution. The downside is the cost for service with two tubes.
Definition Edge CT Scanner
This is a single source, 128-slice scanner that also delivers 0.28 second rotation, thanks to Siemens' TwinBeam Energy technology. This allows the Edge to acquire two data sets without increasing radiation dose. Service costs are lower than dual source CT Scanners.
Conclusion
You really can't go wrong with a Siemens Definition Series CT Scanner. However, if your budget can't afford this newer technology, chances are you can find a great solution in the secondary market. Oftentimes a used or refurbished CT Scanner can give you the performance you want at a price that's kinder to your budget. Talk to one of the experts at Atlantis Worldwide today. Contact Us!
Follow Atlantis Worldwide on Twitter: @AtlantisLLC

Other blogs you may have missed:
Meet the author: Vikki Harmonay