The year 2014 is almost at an end and a lot has happened this year. Donald Sterling is no longer the owner of the LA Clippers after his racial tirade. The Ebola epidemic hit the United States for the first time. And Same Sex Marriage laws were passed in Oregon, Pennsylvania, Illinois, Oklahoma, Utah, Virginia, Wisconsin,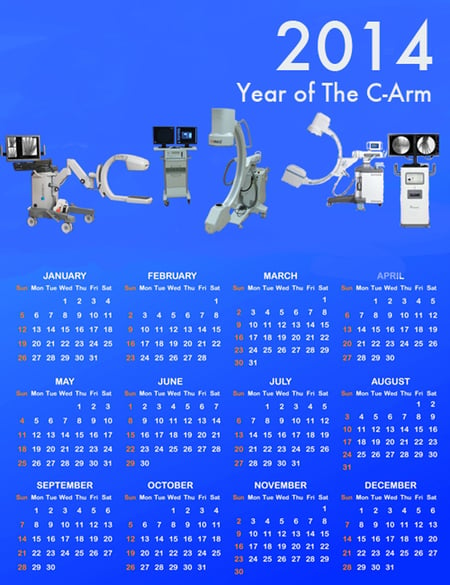 Colorado, Indiana, Nevada, West Virginia and North Carolina. It was been a very busy year in the C-Arm world as well. Below are 4 areas in which C-Arms recognized a lot of changes this year:
Mini C-Arms
For the past few years, it appeared as if there was a lull in the "mini-market." Hard to tell if it was due to GE OEC stop in production of their Mini 6600/6800 line, the economy and reimbursement rates, facilities choosing to perform their extremity procedures on larger C-Arms or maybe it was a combination of all their factors. But this year there seemed to be a resurgence for Mini C-Arms. I think this can be attributed to Orthoscan stepping up to be legitimate competition to Hologic. Both companies have a very high quality flat panel detector Mini C-Arm. As a result, the older Mini C-Arms with Image Intensifiers have been traded in and increased availability on the pre-owned market. And for the first time, the pre-owned Hologic and Orthoscan C-Arms are being held in higher regard than the OEC 6800.
Korean C-Arms
The Korean C-Arm manufacturers Comed (owned by GEMSS) and Genoray have been selling C-Arms into the United States for years but the uncertainty behind them limited their initial success. Despite much lower prices, it appeared as if there was a fear of the unknown both in reliability and serviceability of the C-Arms. That seemed to have changed in 2014 because we received more inquiries than ever for both Genoray and Comed C-Arms. We attribute this change to a few things. First and foremost, the price is such that they can be purchased new at similar prices to what OEC, Philips and Siemens are sold pre-owned. Both Genoray and Comed contend that they can service their systems in a reasonable amount of time. But most importantly, the technology has advanced that they are comparable to the OEC, Philips and Siemens counterparts that have dominated the market since the invention of the C-Arm.
Price Reductions
The price of pre-owned C-Arms seemed to drop in 2014. The prices that C-Arms were selling for seemed to flat-line for a few years, especially for the OEC product line. But in 2014, that appeared to change. We attribute the reduction of price on the pre-owned market to the reduction of price of new C-Arms. This applies specifically to OEC as they have been selling OEC 9900 demo units at prices much lower than what they are being sold for new. OEC has also sold reconditioned versions of their OEC 9800 project line, driving down the third party prices even further. Fears behind the serviceability by third party service organizations have dropped the demand and thus the price of Philips and Siemens C-Arms. The success of the Korean C-Arms and their reasonable prices also seemed to affect the prices of pre-owned OEC, Philips and Siemens C-Arms as well.
We are very excited for 2015 and what changes it will bring to the C-Arm market. We expect these trends from 2014 to continue into 2015 and are anxious to see what other changes will occur. As always, if you have any questions about the C-Arm market, you can talk to our C-Arm Expert! Contact Us Today!
Some blogs you may have missed:
Meet the author: Alex Silbergleit