Whether you buy a new or used C-Arm, the fact of the matter is that at one point or another your system will have an issue. As much as you want your C-Arm to work perfectly from the day you get it to the day you replace it, the reality is that a C-Arm is a machine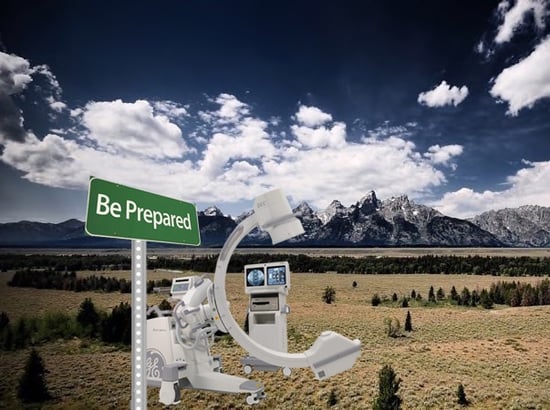 and machines break. The severity of the issue will vary, but your response to getting it fixed should stay the same.
So what do you do?
1) Make sure you and your staff know what to do prior to any issues that arise. When Atlantis sells a C-Arm, we make sure that our customers have the contact information for Alex Silbergleit (the C-Arm Sales Manager) along with the contact information of our head engineer and our local engineer (which varies depending on where you are located). Make sure that your staff knows who to call and has access to their phone numbers in the event of a problem.
2) When a problem does occur, make sure to document it as thoroughly as possible. If there is an error code, make sure to write down exactly what is shown. Pictures and videos of what happened are extremely helpful. The more information you give us, the better we can diagnose the problem before arriving. Detailed information will enable us to be prepared and bring the necessary parts to fix the problem.
3) Call your service contact and/or engineer as quickly as possible. The sooner you call us the faster we can respond. If it is early enough in the day, it is possible that we can have an engineer at your location on the same day. Make sure the person that contacts us is somebody that can describe the problem clearly so that we can have as much information possible before sending the engineer to your facility.
4) Make yourself available for service. Atlantis Worldwide can often have an engineer at your location first thing in the morning or we can have an engineer stay at your location late into the evening. The more time our engineer has with the C-Arm the quicker we can get it fixed.
Having an issue with your C-Arm is always a stressful experience but knowing what to do when a problem arises will make it that much easier to deal with.
If you would like to talk about any maintenance, service or warranty issues, you can trust our experts to provide you with all the information you need. Call Alex at Atlantis Worldwide for more information at 212-366- 9100 x 190 or email him at alex@atlantisworldwide.com
Some blogs you may have missed:
Meet the author: Alex Silbergleit