Its a digital (detector) world! In a few years the word analog will be ancient history. We are beginning to see digital detectors on just about every imaging system from Mammography to C-Arms to X-Ray. But it is with X-Ray where the Federal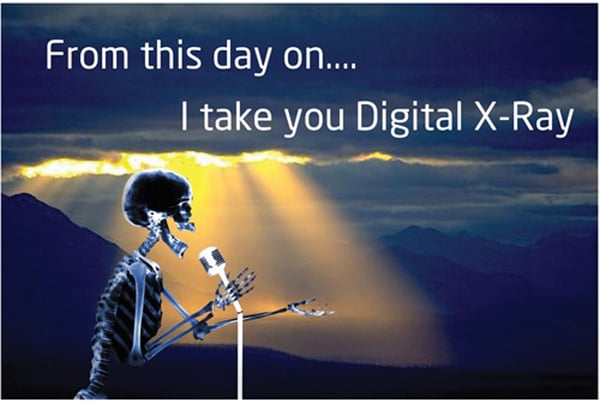 Government is starting to make the strongest push for change. With the passing of the Consolidated Appropriations Act of 2016 the reimbursement rates for Analog X-Ray systems will start to decline starting in 2017. Which begs the question, what are YOU going to do?
For those of you with analog X-Ray systems, you will need to decide whether to upgrade your existing system or replace it completely. For those of you that don't currently own an X-Ray system, you're going to have to figure out what system to buy.
Now of course you can go straight to the manufacturers and buy a brand new system but that could get quite expensive. And lets be honest, you wouldn't be on our website if you were looking to go that route. So lets discuss a few options that we can offer you.
We know some of you out there like to buy new. Digital Rad Rooms that are starting to gain popularity are U Arms and straight arms. These are brand new systems that we can sell as dealers for Viztek and Rayence among others. U Arms and straight arms are different from the traditional Rad Rooms. These systems are sold without tables which requires the physicians to be creative when performing their procedures. With that said, you can purchase a table as an add on but this table is usually a fixed height table. There is a learning curve with these systems that requires physicians to break from the mold from how they were originally taught but more and more of these systems are being sold and are becoming a very common fixture at many facilities across the industry. The best part is the cost for these systems are lower that the price of new traditional x-ray systems. Since these systems are sold new, they will have a factory warranty on all the parts including the digital detector and you don't have to be concerned about availability of parts or service in the event your system has an issue.
While U-Arms and Straight Arms are a great solution to the looming issue of needing to go digital, these systems can still be more expensive than what your facility is looking to spend. Another great solution is buying a pre-owned and refurbished rad room. There are two ways you can go about doing this. You can buy a rad room that is already digital. Going this route should definitely be a cheaper alternative to buying new. The problem with going this route is that you are buying a system with an older detector. While you should be able to get a warranty on the system, many companies will not want to warranty a detector that is more than a few years old. Reason being is the older the detector the more likely you are to have issues with it. Especially since older detectors are not as durable as the ones being produced now. The other option is to add a digital detector onto an analog rad room. You can do this with a system that you already have at your facility or you can just buy an analog room and add a digital detector to it. The benefit of this is that you can add a brand new detector with a warranty to the system. You will still be using an older rad room but the detector will be brand new and will produce very high quality images. However, since this detector is external and not built into the system, this requires you to physically move the detectors for your procedures. With that being the case, we advise our customer to buy a drop rider insurance plan to protect you in the event that the detector is dropped. These plans tend to cost $2k per year plus there is usually a deductible in the event you do drop the detector.
In order to be compliant with the Consolidated Appropriations Act of 2016, you are going to have to change to a digital solution. There are benefits to each solution that you will have to pick between. It will cost money to become compliant but the initial investment will be nothing compared to the reduced reimbursement rates that you will receive over time by not upgrading.
If you would like a consultation on which solution is best for you, please contact Alex Silbergleit and he would be more than happy to answer any questions that you might have. Contact Us Today!
Some blogs you may have missed:
Meet the author: Alex Silbergleit