New is great. Everybody loves new. If it were up to me, I would ONLY have new everything—from cars and cell phones to homes and imaging devices. But let's be real. New is expensive. And if you're talking about medical imaging devices, new is REALLY expensive. Let's say you wanted to buy a new OEC, Philips or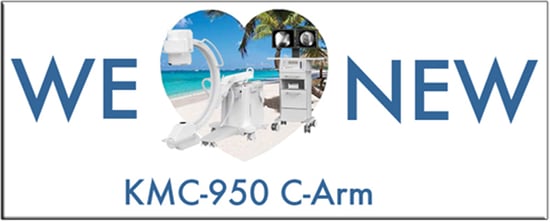 Siemens C-Arm. You're looking at more than $100,000.00. Ouch. So it's no wonder Atlantis Worldwide has been so successful. We've helped clinics, hospitals and other health care entities get the medical imaging equipment they want and need, but at a used or refurbished price.
But what if new WASN'T so expensive? What if new was the same price as pre-owned?
Say hello to the KMC-950, a new C-Arm manufactured by Korea-based GEMSS, the parent company of the more commonly known COMED. It's not easy to break into the medical imaging market. GE, Philips and Siemens have had a strangle hold on the market. But with lower prices and years of persistence—and through the help of some distributors like Atlantis Worldwide—GEMSS is finally being recognized as a big player in the C-Arm market.
The KMC-950 is a high-tech reliable workhorse:
It offers 135 degree orbital rotation and 31.5 inches of free space.
The Deluxe Plus Monitor Cart provides articulated single
post monitor stability and positioning for easy viewing.
19" High Resolution touch screen monitors have a control panel that boasts an abundance of customizable menus.
The easy archiving and documentation system is equipped with DICOM 3.0 that can connect to any PACS network.
The KMC-950 can be customized with DSA (Digital Subtraction Angiography) and Roadmapping capabilities for facilities that perform vascular procedures.
GEMSS parts are now readily available through its dealer network.
More service engineers nationwide are working on the KMC-950.
Price is the Big Difference
The KMC-950 now is a comparable C-Arm alternative to more established brands. But it now beats the socks off the competition in price. You can acquire a KMC-950 for significantly less than new OEC, Philips and Siemens C-Arms. In fact, the price of a new KMC-950 is like the cost of a pre-owned and refurbished OEC 9800, Philips Pulsera and Siemens Varic—all of which can be 10 years old or older!
While the KMC-950's price is hard to beat, you might prefer to stick to the OEC that you've had for years. Or maybe your entire facility is outfitted with Siemens equipment and you want to stick with one manufacturer. That's okay. There are lots of great C-Arms out there and whichever one works for you is the system you should buy. BUT, when its time to buy a C-Arm, ask us about the KMC-950 and I promise that you will be impressed.
Want more information? Contact Us Today!
Some blogs you may have missed:
Meet the author: Alex Silbergleit