Here at Atlantis Worldwide, we sell a lot of OEC C-Arms. That being the case, we get asked all sorts of questions about them: Why is it called a C-Arm? Do I need Vascular Capabilities? Will this C-Arm fit in a 10' x 12' Room? When it comes to OEC 9800s, the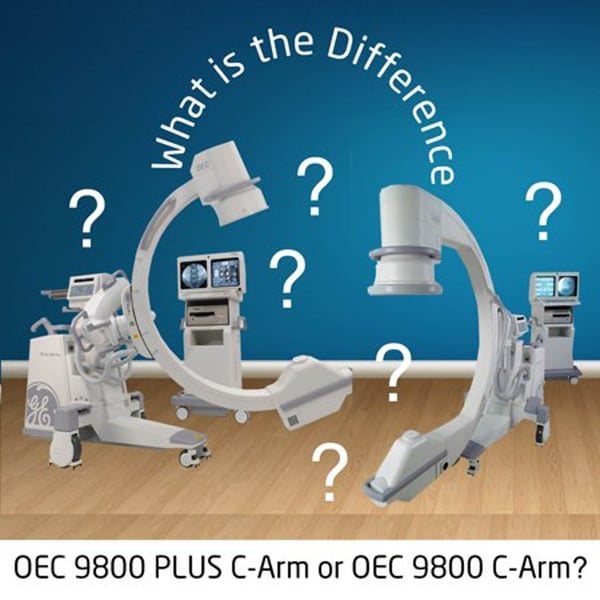 question we hear the most often is, "What is the difference between an OEC 9800 and an OEC 9800 Plus?"
The general belief is that the word Plus must mean that the OEC 9800 Plus has additional features over its OEC 9800 counterpart. After all, isn't that what the word Plus means? However, the truth of the matter is that there are five areas of difference, but the differences between the two are actually negligible.
1. Age: The OEC 9800 was introduced in 1999, with the OEC 9800 Plus coming to market in 2002. Now, many people believe "newer is better." However, that is not always the case. When it comes to C-Arms, the most important consideration is the level of maintenance and care that was given to the system over the course of its lifetime. We have seen OEC 9800s made in 2000 that are in great condition. We've also seen newer OEC 9800 Plus systems in terrible condition. (However, it's also important to note that Atlantis Worldwide refurbishes every C-Arm that we sell, so its functional and cosmetic condition never needs to be a concern.)
2. Software: OEC 9800 Plus units have a more current software solely because they are newer. This is another moot point because the software for OEC 9800s (be it regular or Plus systems) is similar to that of a computer, in that it's not exclusive to one or the other. Each C-Arm is upgradable to the most current software available. (Note: When Atlantis Worldwide sells an OEC 9800, the software is always updated to the most current available.)
3. DICOM: DICOM is a feature that allows you to electronically transfer images to a PACS network for alternative viewing and storage purposes. It is a standard feature for OEC 9800 Plus C-Arms. It was not a standard feature on the OEC 9800s manufactured in 1999 or 2000, except those made for vascular purposes. It was, however, standard in most OEC 9800s manufactured in 2001. DICOM is not necessary for any facility that does not have a PACS network. For those locations that require it, DICOM is an easy add-on to systems that don't have it internally. (Note: Atlantis Worldwide can easily add DICOM to any OEC 9800.)
4: Image Storage: When OEC 9800s were introduced, the Expanded Surgical Package (ESP) units came with 200-image storage. When the OEC 9800 Plus was introduced, ESP units came with 400-image storage. That being said, how many images a system can store has become a non-issue. Most facilities just add an external storage solution like DICOM or via a Medicapture device, which is a box hard wired to the system that transfers images to a USB drive that is then plugged into a computer. You can also print the images, but that is being used less and less these days.
5: Appearance: The exterior of the OEC 9800 Plus looks a little bit different from the OEC 9800. There are minor visual changes to the look of the system, just like how a car will look slightly different than the same model produced a year prior. Likewise, there are a few internal boards that are slightly different from their predecessor but make a negligible functional difference.
In conclusion, when you're looking for a pre-owned and refurbished OEC 9800, requesting a Plus system should not be your biggest concern. You should be more concerned with functionality, image quality and storage options, all of which are consistent between the OEC 9800 and the OEC 9800 Plus.
If you have any further questions about C-Arm Equipment, please contact Alex Silbergleit at (212) 366-9100 x190 or at alex@atlantisworldwide.com
Some blogs you may have missed:
Meet the author: Alex Silbergleit